Pack On 20% More Weight, and Ride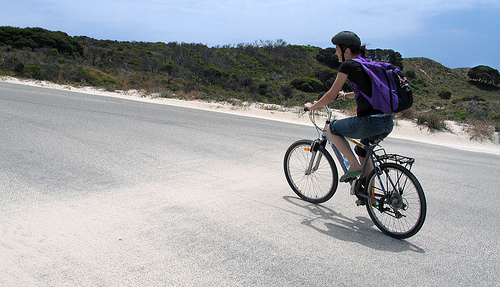 Do you know what it feels like to ride a bike as someone heavier than you currently are?  Yeah, kind of a strange question.
The other day I rode my mountain bike to work and then from there I rode off carrying an additional 20 pounds of stuff in my backpack.  I rode for 10 miles with this load and could totally feel the difference it made.  Seeing as I'm a lightweight cyclist who weighs in at around 120 pounds, that extra 20 created a big difference.
Going up hills felt significantly harder, and I felt much faster going down.  I also noticed how slight shifts in my body made me swerve the bike around.  As I rode along I realized just how much harder it is to ride a bike if your strength to weight ratio is lowered (Visit our post for more information on Cycling and the Power to Weight Ratio).
I think this is something cyclists should give a try, just for the experience.  If you take me up on this, I'd recommend you doing so on a mountain bike as it makes the adjustments easier to manage.  I also recommend that you go out for a ride that's long enough to feel the difference.  Be sure to add in some climbs so you can feel what that is like as well.
Let me know if you try it, and how it goes.  It definitely works as an incentive to keeping fit and light……and the bike is the perfect way to help keep you there.