Rob Greenfield's Off the Grid Bicycle Tour: Day 49
I hope you've been enjoying these updates from Rob's "Off the Grid" bicycle tour as much as I have.  Here's the latest from his cross-country journey to promote sustainability.
Off the Grid Bicycle Tour: Day 49
by Rob Greenfield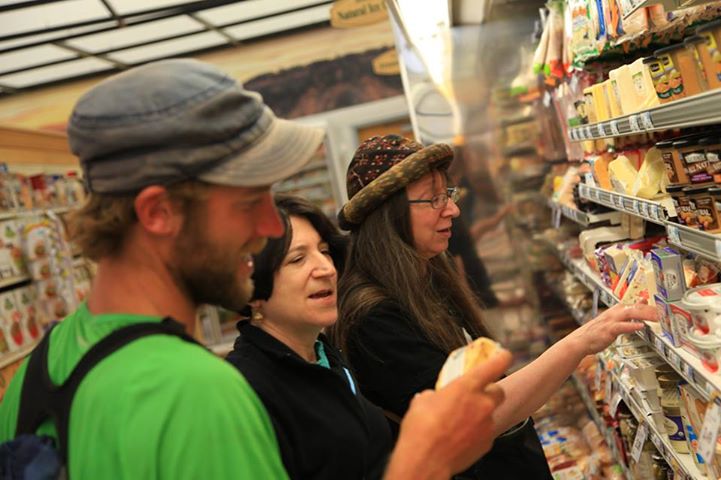 I woke up feeling quite refreshed to the sound of Shannon and Richard in the kitchen talking about whether or not I could eat their local organic eggs if they cooked them for me.  I slept for a solid eight hours and I slept in… a bit.  When I went outside I found the sun peaking over the trees and blue sky was in sight.  I spent the morning in their lovely house taking my time as I prepared for the day of biking.
It was very pleasant morning and the enjoyable meaningful conversations from yesterday continued on with these intelligent people.  They showed me all the wonderful food they are growing in their yard including lemons, strawberries, blueberries, and a handful of different types of herbs.  They really live a life to admire here in Mount Vernon. The only problem with the morning was Mr. Jones, the dog, who insisted on disrupting my peace all morning as he tried to get at my food.  Man having pets sure is a lot of work and it has taken away so much freedom from many of my friends that have them.
I kept my solar panels out in the direct morning sun and was very frustrated as they were not able to harness enough energy to even turn on my phone or get a trickle of charge into my laptop.  Around 10:30 I got back on the road and the morning sun had disappeared leaving another cold dreary day ahead of me.  I was downright disappointed and mad about this.  I was so sick of clouds and they stirred up sadness inside me.
For so long I have been looking forward to and yearning a warm sunny Midwest summer and I'm finding myself in nothing but cold, dreary, rainy days that dampen my spirits.  I had sixty miles to go to get to Dubuque and I reluctantly pedaled first on highway 1 that had minimal traffic but close to no shoulder to ride on and then on highway 151 which was a four lane highway with a bounty of fast noisy cars speeding by me.  Much of the time there was no shoulder and I found myself cruising at 20 mph in the same lane as vehicles going 70 mph.
I did not feel unsafe but it was by no means enjoyable.  As always the only thing I could do was pedal on, so that I did.  I did that very persistently and determined with fury fueling my drive.  The solar panels were harnessing close to no energy and the thought of not being able to use my computer again frustrated me greatly.
Around 3:00 the clouds became sparse and the sun shined down upon me.  I took some time to walk out through the tall grass as I ate a lunch that I prepared for myself.  The heat of the sun on my back and the brightness of the blue sky instantly cheered me up.  The sun is such a powerful thing and I have learned to appreciate it so much for it is the source of my happiness.  The sun gave me the motivation to pedal about 30% faster than I had been earlier in the day and made the riding so much more enjoyable.
I pedaled hard with the intent of arriving in Dubuque by 5:00 and was excited to be on my bike, unlike during the depressing morning.  I pushed on and just after 5:00 pulled into the busy city of Dubuque, Iowa.
I was greeted by my aunts Louise and Myrna who drove over from Chicago to spend the evening with me.  It was such a wonderful feeling to be in the presence of humans that I am familiar with and love.  We went into a grocery store and searched the shelves for local organic food that they treated me to like they caring loving aunts that they are.  I got two blocks of organic Iowa cheese that I managed to finish off in under twenty-four hours. If you put food in front of me on this trip it won't last long.
My body is constantly is craving calories.  We went to a restaurant for dinner and my friends Grant and Vanessa drove down from Boscobel, Wisconsin to join us.  I got a salad that had completely local and organic ingredients. This was my first time eating at a restaurant on the trip and I've avoided doing so because the electricity they use to prepare food and the water they use to wash dishes.  So I was definitely on the grid tonight but my choice of food was about as eco-friendly as it gets.  I am contemplating making the rules of Off the Grid Across America a little more lenient so that I can open up more opportunities to teach my readers easy ways to live a more eco-friendly lifestyle.
Around Dubuque and at the restaurant I barely had a chance to rest my mind as people approached me about my bamboo bike and the solar panels on the trailer.  The people in this city seem beyond excited about living an earth friendly lifestyle.  A man named Rob approached me at the dinner table and told me about a bike program that he started in Dubuque and with that short conversation he ended up hosting me at his apartment just a few blocks away.  He had a sweet loft in downtown Dubuque filled with bicycles and it was an absolute pleasure to sleep on his couch.
For more on Rob's incredible bike journey, follow him on Facebook.
Photo by Brent Martin.