Team Rwanda Cycling
I know there are so many great cycling organizations around the World, but there is something about Team Rwanda that totally inspires me.  I first heard about this team through a post by Jeep Gorilla that mentioned an upcoming DVD called "Rising From the Ashes".
It caught my attention and I'd like to help spread their story.  It might be a little long, but I invite you to read "Abraham's Story", and learn more about Team Rwanda Cycling.
Abraham's Rebirth
– Team Rwanda Cycling
When I started first testing riders here, in 2007, there was only one whose name kept cropping up: Abraham Ruhumuriza. Despite the continual mentions, he was nowhere to be seen. I even found out that he was a local of Butare, the town where I lived at the time. Not only that, but his bike was one that he borrowed from Tim Schilling, who was the father of the family that I was living with.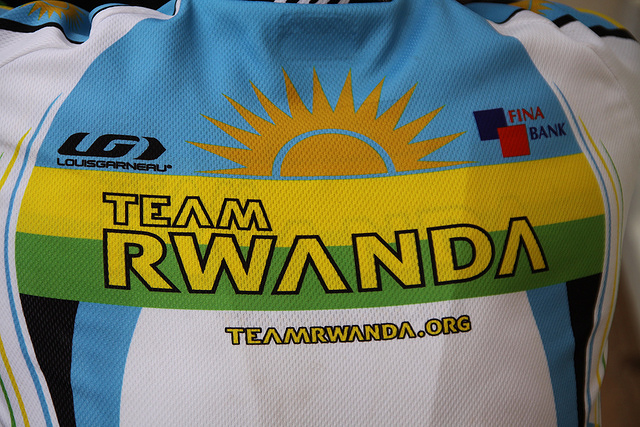 It all became even odder when, after three weeks of riding and testing, there was still no Ruhumuriza, who was touted as the best cyclist in Rwanda.  More and more comments were being translated as: "He did not need to be tested, he was the best".  He eventually did come, got tested and scored very highly but the selection for the Cape Epic in South Africa had already been made.  Adrien and Rafiki were the first "official" riders to race in the Team Rwanda colors.
Being from the same town, it was easy for Abraham to attend our training camps but he always arrived hours late.  When we rode together outside of the camps, he would ride on the left side of the road facing traffic and I would ride on the right side of the road – it was impossible for me to convey to him that we could and should ride together.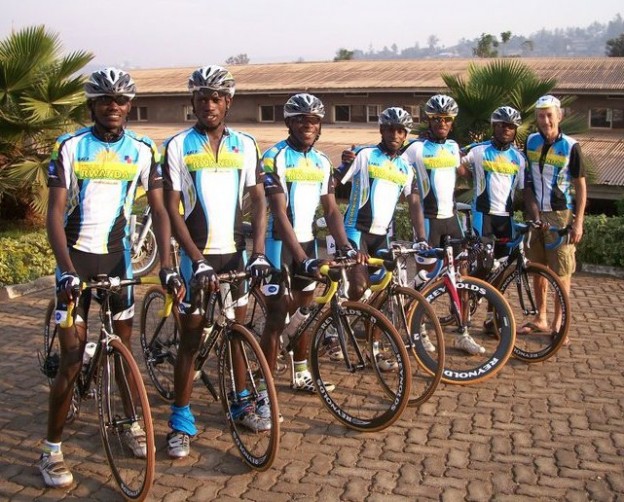 Abraham Ruhumuriza has been the most difficult member of Team Rwanda since its inception.  Yet his story is not just one of stubborn defiance, of arrogant pride or of bullish force, though that conclusion would be easy to reach.  Abraham's God-given talent includes all of the above.  Yet he is the nightmare team member, a waste of incredible talent, a toxic influence to new members and veterans, young and old.  A young man who clings to abhorrent behavior with the tenacity of an octopus, clinging to it not really knowing why, just knowing he does not want to let go.
Abraham has been the test of just how far one should really go.  My dilemma has always been how far I should allow a person to be so destructive to both himself and the team.  From the outside, it seems like a very easy decision, but when I witnessed a slice of Abraham's life, my natural instinct was to reach out to help him in any way I can.
He was 15 during the genocide; he lived in Butare, one of the bloody epicenters of slaughter. There are stories that this man holds within that are so terrifying they haunt his inner core, inaccessible yet simmering under the surface.  Inside the stadium in his home town, 20,000 people were corralled and hacked to death.  Within one year of knowing Abraham, he lost his mother, whom he took care of and who lived with him, to a mysterious illness.  Two months later, his wife became ill one evening; by morning she was dead, leaving him alone to take care of a nursing child and two young boys.  When we returned from a stage race, he found his brother-in-law and sister had taken over his property and the house left to him by his now dead mother.  He suspects that out of jealousy they poisoned both his mother and wife to get the property.
Team Rwanda helped him move closer to town and pay for a helper, but it was still not enough; he had to give up his youngest for adoption, as he just could not manage all of the responsibilities.  He opened a mini-cinema for extra money and his manager robbed him.  He needed a home so I asked my church for help. The members raised $2,400, Team Rwanda loaned him $1,300 and his race winnings paid for the rest of the $8,000 price tag of his new house.  He still needed extra money to make ends meet, so he rented out the house for $10 a month more than the cost of his small apartment, saying the house was not safe because there was no fence, so the one-room apartment made more sense to him.
His presence in the team was growing more and more tedious.  I must have adjusted his seat 50 times in the first two years of the team.  By the fourth year, I was fed up with changing his seat position, his gears that were too big, him never listening to my advice and always thinking he knew better.  He felt he was too good to come to training camps so would refuse, as he "knew how to train already".  He felt he deserved more money from the government and cycling federation, so was constantly inciting the riders to side with him and stage boycotts.  His performances at the international races suffered for lack of training and his toxic attitude was seeping into the team.
He was still, however, a top contender for a place in the squad, and was reinstated on the team in 2010, when we hosted the Continental Championships.  The team time trial was the first race, in which Team Rwanda finished in a poor sixth place.  Abraham, essentially, would not work as a team member and blew apart the team in the first 10km.  In interviews with the press after the race, Abraham blamed everything on poor support, inadequate bikes and lack of proper training.  The cycling federation president, Aimable Bayingana, had had enough; Abraham was banned from the remaining road race in the Continental Championships and the Tour of Rwanda the following week.  His downward spiral was just starting.  Despite his natural talent, he was just too much for any of us to handle, so he was off the team.
The federation told him he had to return his bike, and if he wanted to ride he would need to work with his local club and arrange a bike through them.  It was now out of my hands.  For some, it seemed a harsh sentence for such a talented rider but it had been smoldering for quite some time on many fronts.
Months went by before I heard from Abraham again. There was still a friendship but it was now mixed with an inability to understand exactly why he had been sanctioned. Abraham continued to ride and refused to return his bike – it was all he knew; he was lost without his bike.
He had convinced himself quickly that he was too old to race at 32, so he needed an alternative.  About eight months into his sanction, he called then arrived at a training camp by bus, without a bike.  He was desperate, he needed a job, he wanted employment, to train the riders … anything.  Cycling was all he knew and I was the only one who could help him.  And in one of the most difficult discussions I ever had with him, I listed all of the reasons why I could not trust him with young riders, with the team, how he had demonstrated to me within his short career that he would not listen and learn, so could not be trusted in that capacity to teach others the same bad habits.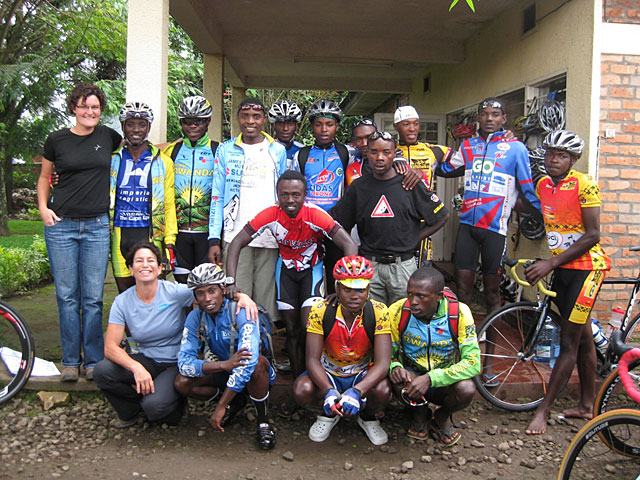 Last year, we were getting ready for our annual event, the Tour of Kigali, in October; it doubles up as our national championships, and was won in 2010 by our star, Adrien.  Word reached me that Abraham had been relentlessly apologizing and mending his relationship with the president of the federation, Aimable, and its members.  He returned his bike, and was back in good standing with his club. He called me and asked if it was possible for me to make sure his club gave him a decent bike.
So I recovered his bike from the federation, Maxime fixed all the broken parts, put on a new set of wheels and tires and I gave the bike back to his club via the federation.  His sanction lifted, Abraham was happy and was allowed to race for his club at the Tour of Kigali.  I could see his fitness was not what it had been but he dug deeper than I have ever seen him dig and pulled off a stunning third-place finish!
The epilogue to this brief story is really the beginning of a new story, a much better story.  Abraham qualified for the top Team Karisimbi in the Tour of Rwanda; the whole team got to ride our Pro-Tour bikes, Abraham included, and he finished in an incredible fifth place!
It was evident that something had profoundly changed within him.  Abraham was becoming more and more pleasant to be with.  There was a new sense of humility about him, he was much more appreciative and he showed he was not about to mess up this new chance he had been given.  Abraham was a happy man on a new path, one that he had chosen himself.
  Five weeks went by before I saw Abraham again, at our first training camp, in January this year, though he had called several times to let me know that he would be there on time.  Abraham was almost unrecognizable in demeanor and attitude.  He listened and applied what he heard; I never had to adjust his seat again, he never asked for money and was just appreciative when he got it.  The whole team cheered when I announced in January that he would be receiving his monthly stipend again, and Abraham, hands clasped in prayer, was overjoyed.
He is now a morale booster for the team, good with the young riders, honest with how he feels and a veritable comic with his vivid expressions and infectious laugh. He is a real joy to be around, an asset to have with the team. He sees the benefit of the camps and is getting stronger and stronger as the weeks progress. The arrogance and defiance has been replaced by humility and an openness to learn.
Abraham's story has just begun; he is at a place now where he can heal his past demons, the memories that haunt him.  He has remarried and now has another child with his new wife; he has a new beginning with Team Rwanda and will be an integral part of the team even after his racing career is over.  The dregs of his traumas are being overcome.  His experiences are invaluable for the generations to come and now he has the ability to change lives to a better end.
This week at training camp we were showing the riders the new trailer for our documentary, in which there is a several-frame clip of Abraham with his deceased wife and mother. As soon as he saw it, a chord was struck in his heart, he made us backtrack and freeze the image while he gazed in wonderment at the only images he had seen of them since their death. I remembered I had taken photos of the exact scene when we were filming, so I found them and Kimberly printed them. We presented them to Abraham at the next meal. I watched as he clung to the photos in his hands, gazing into them with such searching expression. It was as if he had been given the most precious thing in his life. Emotions of both sadness and joy filled his face; that simple gift had lifted his spirit, almost as if it was the relief and the emotion of closure that could finally come to a memory of lost, cherished souls.
Team Rwanda is not about the bike; it is about changing lives through the bike. We all are learning lessons as we walk through this experience. Abraham is evidence that we are not here to give gifts to people but to enable them to fulfill their potential and affect not only themselves but their families, their communities and their nation. I do not hide that this is one difficult team to be on, but the members who survive emerge refined and enabled to reach heights they never knew existed.
Update: Since this story was put together, Abraham has had even more of a comeback and just won a race at the end of February.  Looks like he's back.
Team Rwanda Cycling hopes to have their "Rising from the Ashes" documentary out soon….and when they do, we'll be giving away copies.  Watch for that over here at Loving the Bike, and I invite you all to find out more about Team Rwanda at www.teamrwandacycling.org.