The Fifth Sip
I remember the day very well.  It was just over a year ago, June 23rd 2009.  I was in our bedroom and my wife was lying down on the bed….out of nowhere she says, "Darryl, I'm pregnant".  My heart immediately sunk…..another child on the way.  We hadn't planned this, so I was totally shocked when I heard the news.  My perfect world of great wife and two amazing kids was about to get seriously rocked.
I'm ashamed to admit it, but I immediately went into a depression and denial phase….and it probably lasted a lot longer than it should have.  I can still remember back to a good chunk of last summer with feelings of "Is this really happening?  No, it can't really be happening".  You see, I came from a family of two kids and everyone around me had a family with two kids.  To me, it was the way it should be.  Three just seemed like something I wasn't sure I was prepared for.
Okay, so let's fast forward to how this story can make its way into a cycling blog post.  Let me start off by letting you know that I can sometimes be a little Obsessive – Compulsive.  One example of this is when I'm out riding….when I reach down for my water bottle to take a sip, I have always sucked back 4 small sips each time.  Inside I'm thinking that each sip represents one of the four members of my family.  A strange personal fact, but the Obsessive – Compulsive in me makes sure it happens each time.
So as time passed last summer and the news of our third child still resonated in my mind, I continued on with my four sips of water at a time.  Again, ashamed to admit that I wasn't able to accept this yet as my reality.  The days went on, the rides kept happening, and four sips continued being taken.
But on a beautiful long ride exactly one year ago today, my mind, heart, and soul aligned……and when I reached down for my water bottle, I took that fifth sip. I came home and told my wife all about my feelings, the sips, and that I was now ready for this.  I know I put a lot of emotional stress on my wife and was anything but the husband and father that I should have been.  I can't take those 37 days back, and I forever regret my behavior during that time.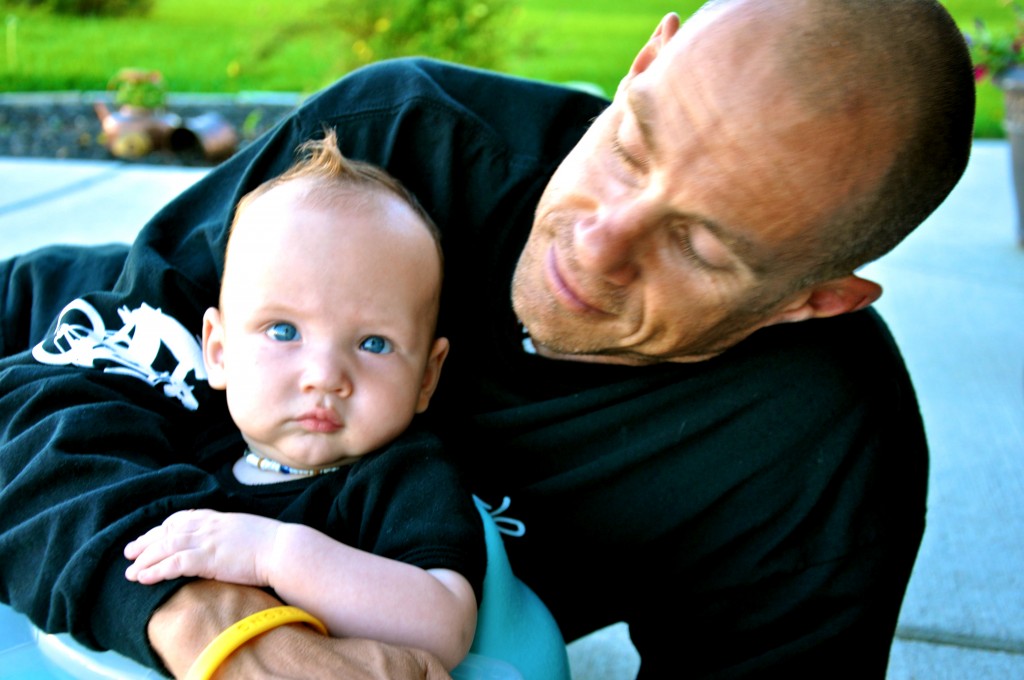 My wife and I believe that we often come across blessings in disguise…..and I can tell you this:  My baby boy, River, has turned out to be one of the biggest. I've nicknamed him "Lucky" because to this day, I'm still not sure exactly how he managed to beat the one in a million odds.  But when I look at him and see that great big smile looking back at me, I can't think of things being any other way.
The days keep rolling along, my rides are even better, and that fifth sip tastes so perfect.