Turn Right to Go Left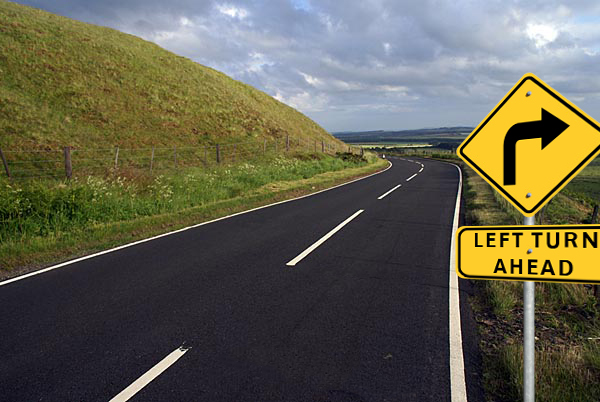 Once I get on my bike, crank the pedals, and hit the open road….the last thing I want to do is stop.  I like riding like a mad man for my entire route without having to take my feet off the pedals.  I really, really, really dislike it when I have to stop for a red light, traffic, or anything else (we have a rule in our house not to use the H word….hence the use of dislike).
So with this in mind, how do I make it through a ride in a busy city like Austin?  I Turn Right to Go Left (and many times Turn Right to Go Straight).  If you have kids and you've seen the movie "Cars", you'll remember Doc Hudson using this line when spitting out some race car wisdom to Lightning McQueen.  But my "Turn Right to Go Left" technique is much different than what old Doc was talking about.
When I need to make a left hand turn, most of the time it takes waiting for a green light or green turning arrow to make it happen.  Instead of sitting at the light, I'll go right and cycle along for a while before making a U turn back in the direction I needed to go.
Additionally, if I'm riding along and hit a Red Light, my first instinct is to turn right instead of stopping.  What this allows me to do is keep moving and not be subjected to sitting on the side of the road.  I turn right, pedal my way out of traffic, do a quick 180 back to my route, and then take a right hand turn back to the road.
Let me be totally clear here….I am very safe when doing this and I would never do it in heavy traffic.  I'm doing this on roads and in situations where there are  barely any cars on the road.
The odd time this technique isn't possible due to traffic or other factors, but the majority of the time it allows me to keep on riding.  Are you with me on this one?  Who else H's stopping once they are out on a ride?  What techniques do you use to keep the tires rolling?