Unschooling: Like Riding a Bicycle
Can you really compare educational styles to riding a bike?  Well, I read an article recently entitled "Unschooling: It's Like Riding a Bicycle" and I found the correlation quite interesting.
Before jumping into this post, I wanted to state that this article is not intended to create some sort of heated debate on what type of education is best.  Let's keep this fun and easy, and just consider it entertaining reading.  Let's leave the the educational debate for others to discuss.
We are currently homeschooling our kids and I really like how it fits in with our Family lifestyle.  Traditional schooling is totally cool as well and in today's society, and with a boatload of  available options, I think it's best for parents to take a look around and decide what method works best for them and their children.  The idea of homeschooling might be scary enough for some parents to consider, but what about the concept of unschooling?
Unschooling…..come on now, can you be serious?  That's what I've always thought, but just recently my Wife brought up the idea and provided me with some details and information.  In the article mentioned above, Vickie Bergman explains that if If being in school is like riding a train, and traditional homeschooling is like riding in a car…..then unschooling is totally like riding a bike.
Of course you can see why I liked this analogy and Vickie definitely got me hooked on reading more about what unschooling is all about.
Some days, your mom says, "Want to go for a ride? I have something cool I want to show you. " If you want to go, you hop on the bike and go. Some days, you are the one who has something cool you want to explore, and your mom or siblings or dad ride along.  And some days, one or some or all of you are tired and you stay home and watch movies or cook or read or play video games all day.  But every day, you have the choice of what to do.
The concept of unschooling still freaks me out, but I'm glad my Wife brought it up and it's definitely something we're considering.  Want to know what grabbed my attention the most?  It's the quote from Vickie below.  These words spoke to my being…the cyclist and the Dad inside of me.
No matter which kind of bicycle you are on, there is no separation between you and the outside world.  No window to look out.  You can smell the real world, hear the real world, stop and touch the real world.  You are part of the real world.  There are paths to follow if you want to, but your rides are not limited to the paths.
Albert Einstein once said, "Life is like riding a bicycle.  To keep your balance you must keep moving."  Whether you are traditionally schooled, homeschooled, or unschooled…..just be sure to keep on learning and moving forward.
Image c/o de cafe racer
Reminder: Order Your Loving the Bike Kit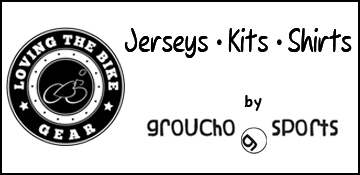 Order your Loving the Bike Jersey or T-shirt now so you can be out there looking good on the bike this Spring.  Head over to Groucho Sports and get yours now.  Jerseys starting at $54.95.
We thank you in advance for your support.