Celebrating with Bob
It's not the first time I've mentioned that our Loving the Bike birthday falls on the same day as that of Bob Marley.  I swear I never intentionally launched this site to coincide with him.  But here I am celebrating four years of Loving the Bike along with my man, Bob, who would have been blowing out 69 candles today.
So in honor of both our big days, I wanted to share some words with all of you.
"Rise up this mornin,
Smiled with the risin sun,
Three little birds
Pitch by my doorstep
Singin sweet songs
Of melodies pure and true,
Sayin, (this is my message to you-ou-ou:)"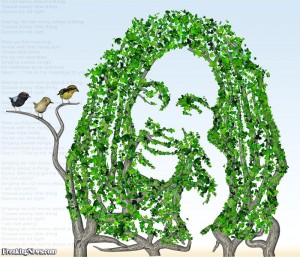 You know those little reminders that life sometimes tosses your way?  Like the time you almost fell off your Parents roof, and for just a minute you appreciated life more than you ever had before.  Or that time when the Tornado was approaching and you hid in your basement waiting for it to pass…all of a sudden your daily life stresses didn't seem so bad after all.
It sometimes takes the Universe to send us a wake up call in order to appreciate where we're at or what we've got….remembering what's most important…and what should always be our first priority.
Or we could be like the great Bob Marley and wake up with an attitude of happiness and gratitude as found in the lyrics to "Three Little Birds".  That song includes the above words, and also a mantra you should remember the next time yuh fin yuhself stress'n:
"Dont worry about a thing,
cause every little thing gonna be all right.
Singin don't worry about a thing,
cause every little thing gonna be all right!" 
Ground yourself….or the Universe will do it for you.  But in the end…don't worry about a thing, because every little thing is going to be alright.
Happy Celebrations to you all.