The Man-Bicycle Basket
Front baskets on your bicycle are only for pretty girls riding along in pretty dresses, right?  Hmmmm…Can it be cool for men to have a front basket on their bike?
Although I don't currently have one on my bike, I say Yes.  With all the options available for bike baskets these days, it's easy to find one that suits your gender and personality.
I first started thinking about bicycle baskets when we got our Chihuahua, Tambo, a couple years ago.  I thought it would be pretty cool to carry him around on my bike when cruising our Austin neighborhood.  But I never did get around to it.
Okay, I know what you're thinking….no matter how manly of a basket I got, putting a cute little Chihuahua in there will totally nullify things.  Yeah, you're probably right….but I still think that no matter what you use the basket for it can still be cool for a guy to use one.
Most Manly Man Basket
From what I've seen, the best way for a guy to put a basket on his bike and avoid feeling strange about it, is to call it a Beer Rack.  Some guys seem to prefer to mount the basket on the rear of the bike, but I've seen quite a few who carry their beer bottles up front.
I'm sure most men will agree that this is the most manly option for a bike basket….just don't call it a basket, right?
Stainless Steel and Wood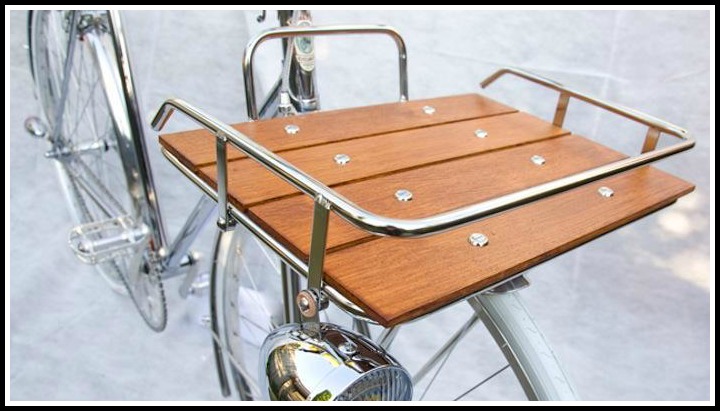 I personally like the look of baskets/racks made of stainless steel and wood.  I'm not sure if it makes the basket more manly, but it looks good and that's what I think is most important.  There are more and more options with this look becoming available, so I guess I'm not alone.
If you just can't wrap your head around getting a basket for your bike…..set yourself up with a bicycle rack like this.
Man Sized Dog Carrier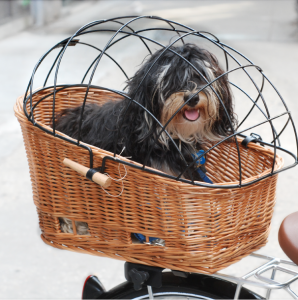 Okay, so back to the idea of carrying our Chihuahua on the bike.  I had the opportunity to try out a basket from Basil, a bicycle accessory company out of The Netherlands.  They have a nice assortment of bags, baskets, saddle covers, and more…..but I figured this was a great opportunity to give this dog carrying thing a try.
The basket they sent me is freaking huge.  I was expecting a nice front mount with a cage on top to keep Tambo from jumping out of the basket, but now I see that they primarily make rear mount dog baskets.  Basil offers a selection of different size animal carriers in their PASJA line of baskets.  All are high quality wicker baskets designed with quick release.  The cover is steel and convex so the animal has a lot of room to sit up, and is very secure inside.  Basil also sent me an insert cushion so Tambo can continue being pampered even when riding in the basket.
I don't currently have a way to mount it to the rear of my commuter bike, and getting bicycle accessories here in Grenada is not that simple….so I have yet to mount this baby up and take Tambo for a ride.  I'll be sure to update things once I do.
Not So Manly, but Cool and Functional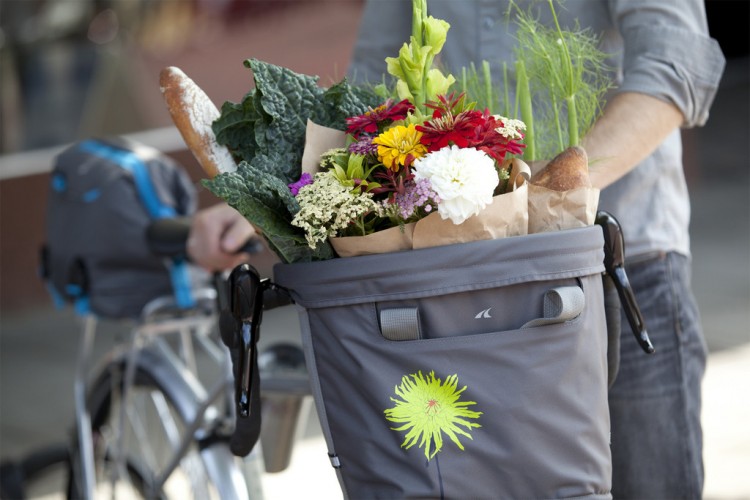 The great folks from Detours sent me one of their Alki beach baskets to try out.  Although it doesn't really have that manly look to it, it's totally functional…..and still pretty cool looking.
The best features of these baskets are that they have a drawstring closure to keep things from falling out, and can easily be detached from the bike so you can take your items with you.  The interior zip pocket allows for things like wallets or money to be zipped up and kept even more secure.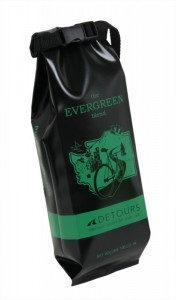 The bag is also collapsible, so if you're not totally secure with the manly-ness of this bag and you happen to be riding by some cute girls….you're all set. Just stop, collapse it and tuck it under your arm.
Detours makes a very product they call "the coffee bag".  Seeing as I'm in the biz, I really should have had one of these sent as well….but I didn't know about them at the time.  It's a food-grade, waterproof bag that looks like something your coffee beans would come in.  The coffee bag can be mounted under the saddle, on top of a rack, or even a bottle cage.  With all the downpours here in Grenada, this think sure would come in handy for me on my commutes to the café.
Homemade Dog Carrier
Okay, so back to the idea of carrying a dog with you on the bicycle.  I value the opinion of Richard from Cyclelicious and he feels that the best dog carrier he's seen is "a simple board bolted across the top tube that the dog stands on, with his forepaws on the handlebar."
Here's a picture (c/o Richard Masoner) of what he's talking about….looks pretty rugged and manly to me.  But I think it would scare the crap out of our little Chihuahua.