Announcing Caribbean National Cycling Jersey Series
Announcing the Caribbean National Cycling Jersey Series
by Royston (Knights of Mo'Bay)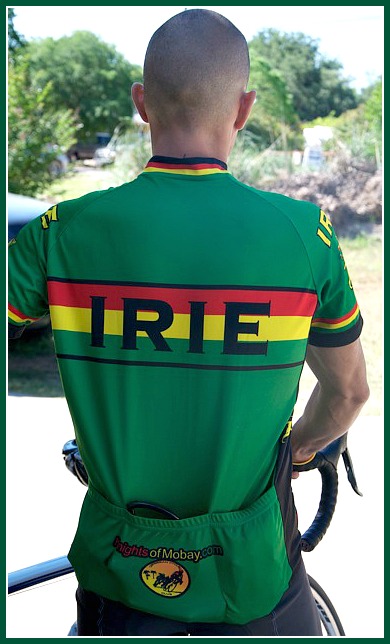 Knights of Mo' Bay has been on an interesting journey of designing unique and exciting cycling apparel.  Today, someone is rocking an IRIE or other Knights of Mo' Bay (KOM) jersey in 45 US states and 25 countries around the world.  KOM started out as Reggae themed cycling boutique apparel business appealing to former Caribbean National Cyclist from Jamaica, Barbados, Trinidad and interestingly Belgium.  Our slogan, Cycling Jerseys that Reflect you!  Today,  you can order a Union Jack Reggae Jersey or Mexican Reggaeton cycling jersey and discover the weird connection better Haile Selassi, Hotel California and Rastafi Music.
Two years ago, we made an interesting and abrupt change in direction. We got a call to design a Ghana National cycling jersey for Craig Calfee's Bambooseero company. http://www.bamboosero.com/  Craig developed a program in Ghana to build  bikes from bamboo and use the cargo bikes to transport crops from the hills down to the villages for transport to market.  Bamboo is an interestingly strong material, actually displaying some of the characteristics of carbon without breaking.  This Africa incubation business has grown and they now produce bamboo road bikes for the US and Europe.   They wanted a Ghana Jersey to symbolize the country of origin, Ghana.  I designed the Ghana jersey and it just took off.
One, day, I had a passionate customer calling me after my expo event at the  Seagull Century in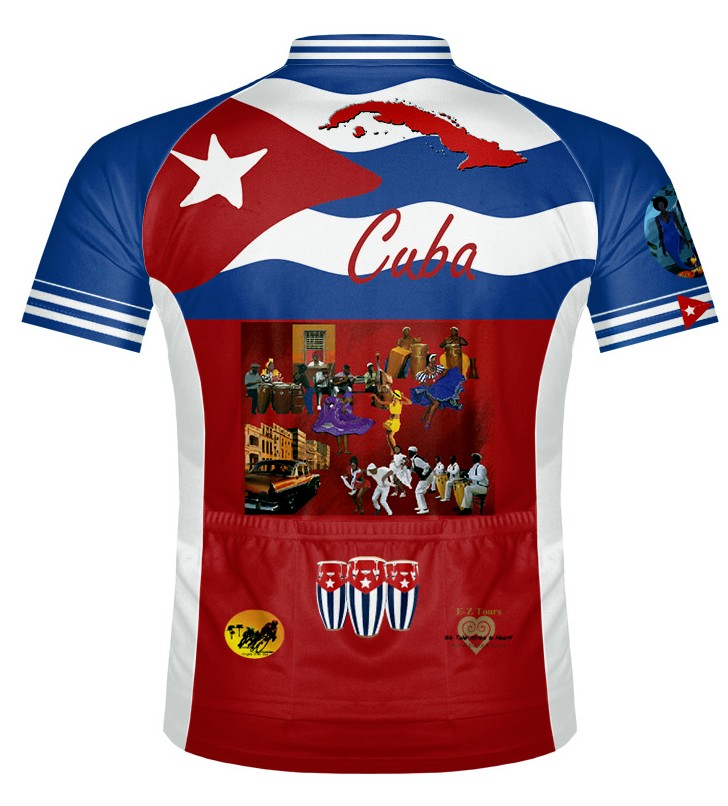 Maryland, asking if I was the producer of the Black Star Jersey.  I guess in Africa, every country is identified by their national football team nickname.  The US has three, one is Team USA.  He wanted a Lone Star Jersey,  Liberia.   I googled Africa cycling jerseys and the only thing that came up was Rwanda and South Africa. None of the major jersey manufacturers produce jerseys for the continent of Africa.
My passion is historical and cultural research and take great pride in researching each nation before designing a jersey that reflects the culture.
KOM does not slap a flag and bold Ascot lettering and shove it out to market.  Last year, I developed the Africa National Cycling Jersey collection.  I started with Liberia jersey, then the  Screaming Eagles, (Nigeria), the Harambee (Kenya), Natural Wonders of Africa, Lions of Teranga (Senegal) and currently in development, Taifa Stars (Tanzania). 
KOM was called out on the obvious, we were producing for  Africa, but not Jamaica, birthplace of my parents. KOM is pleased to announce our new line of Caribbean National cycling jerseys.  Obviously we started with Jamaica, then Cuba, New Orleans Mardi Gras, Puerto Rico, Trinidad, Guyana, Costa Rica and currently in production, Panama.  Every jersey has a uniqueness and representing a conglomeration of inputs from  locals and expatriates.  They are designed to appeal to both product locals, but also visitors who have fond memories of their visits.
Check out the Puerto Rico Jersey, it  has the Coqua, a frog that cannot survive away from the island of Puerto Rico. Cuba jersey has La Malecon and the old woman with the cigar.  Senegal has wrestline and Goree Island.  Take the time to examine each jersey and discover their rich history and culture.
For more information on Knights of Mo'Bay, visit them at www.knightsofmobay.com.