NAHBS Brings Bike Beauty to Austin
It's still four weeks away, but I'm totally stoked to be attending my first ever NAHBS (North American Handmade Bicycle Show) held right here in Austin, Texas this year. This is the 7th year for the NAHBS and it's taking place in the ATX from February 25 to 27.
The show began as, and remains, the largest and most important gathering of custom bicycle builders anywhere in the world.  It features all conceivable types of bicycle: Some dazzlingly beautiful, some you thought might have been impossible to build, some very fuctional and utilitarian, and others that are simply classics of their genres.

Whatever types of bike they are, they're all of the highest quality at NAHBS. All of our booth holders have completed at least 50 frames and spent at least two years as a professional builder. Each of them carries product liability insurance and is a highly reputable and respected member of the industry.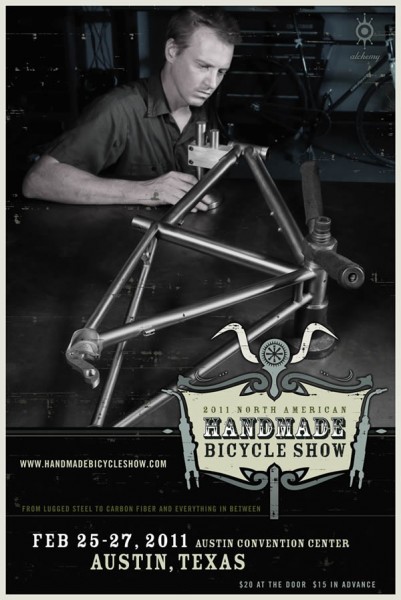 I'll be blogging from the show when I attend in February, but I wanted to post about it now because I'm amazed at how many people have still never heard of the NAHBS.  If you've been thinking about attending, here's four reasons why I think you should make it happen:
If you're coming….and I really hope you are, be sure to purchase your tickets to the show online, in advance.  Doing so, you'll save yourself some cash on the entrance fee.  Oh, and if you're coming…be sure to let me know so we can make some meet up plans.
For more information on the North American Handmade Bicycle Show, head over to www.2011.handmadebicycleshow.com.