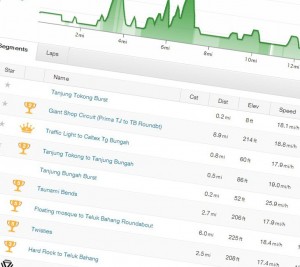 I am officially "one of those people." You know those people, the ones that immediately upload their ride data, before they've even taken off their helmet, to check their Strava segments to see if it was a PR or maybe, hopefully, a KOM.
I've always loved looking at my ride data, trying to connect my heart rate and speed to what I remember the perceived effort to be.  I look at where I felt OK and could have pushed harder, or where I was all out and still need improvement. I look at my intervals to find variances, and usually find I've slacked off in the middle of them. I worked with a couple of coaches for a few years who would also look at my data, since they weren't local, to see how I was or wasn't improving. They would plan out my future rides based on this data, so clean data was a must at all times. The sensors on my bike had to work, and I wore my heart rate monitor for the most mundane of rides, to ensure I stayed under zone 3 for recovery.
And now, coach-less with no prospect of doing a road race anytime soon, its even worse. Back home I would think, hey that's neat, when I got a KOM (QOM, really) or a PR, but here it's the end-all for me. I go out on a ride to specifically nail down a segment, riding slowly in between to save energy. On my ride this morning I had 11 achievements (PRs and QOMs) because I rode with the A group, and I can't wait until next week to see if I can hang with the fast guys for just one more bend in the road. I was a little miffed that on a 9 mile segment, I missed the QOM by 16 seconds.
Others here can be the same way, and I think that's because there's not much racing, at least on the island. We feed our competitive spirits by racing each other and the clock simultaneously. My heart rate rises whenever I get an email saying someone has beaten my time, and I plot my revenge. It gets personal; I know the names of all the regulars ahead of me on the Leaderboard.
My mountain biking is started to get affected as well. I said a couple of weeks ago that "I have zero interest in doing the same off-road" in regards to watching my Strava times. This is now a lie. Lately, when I ride off-road, I think, ok, I haven't messed up yet, let's go a little faster here so I can move up a few spots.
This needs to be resolved. Tomorrow, I'm going on a mountain bike ride, and I vow to ride as slowly as possible, and focus on technique and form instead of speed. Next week is a recovery week, and I'm going to leave my HRM at home for most of the rides, and put my computer away in my pocket, out-of-sight.
My name is Ashley Irving, and I'm a Stravaholic.