Shakedown Cruise: The Peugeot (Part 2)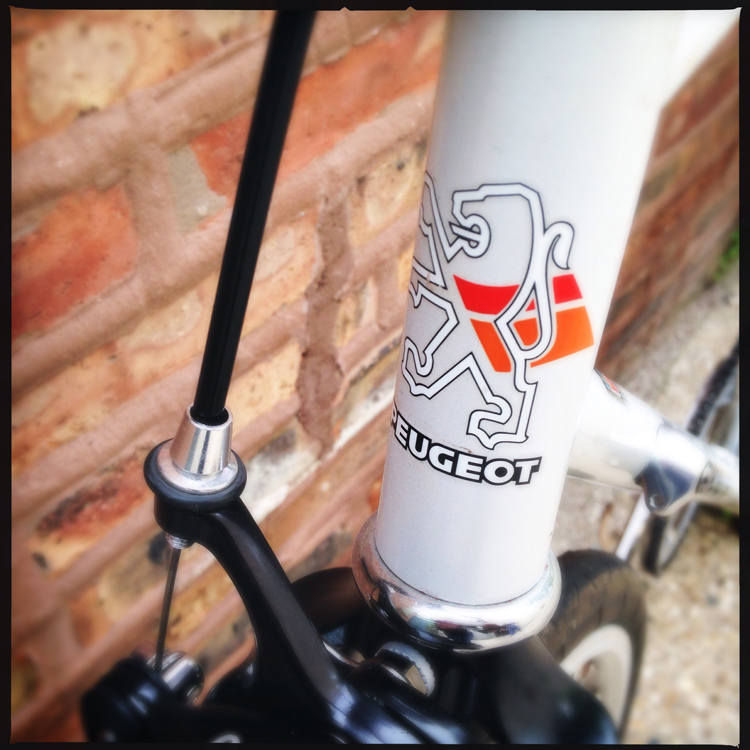 The build was finally complete and all that was left was the shakedown cruise.
I carried her down my front stairs and the fresh tires hit the pavement for the first time. Throwing my leg over, I immediately felt the difference in this bike compared to my others. Nothing bad. Just….different.
I was wearing jeans, because what's more fitting for a first ride on an urban bike than a trip to a favorite watering hole to meet friends? The new Brooks saddle needs some serious breaking in, but the saddle height felt perfect. I pushed off and it felt great. The gear ratio was right in my sweet spot for navigating Chicago's flat terrain.
It was a slow ride, cruising and meandering all the way to the meeting spot. By the time I arrived I think my face hurt from smiling. The long wait was definitely worth it. I locked it to the bike rack, and gave it a backwards glance as I walked toward the outdoor seating area.
Yes, there are some blemishes on the frame, but that's what makes this bike beautiful. I love that so much of the bike is from reclaimed parts and the things that are new don't take away from the vintage feel or the integrity of the finished bike.
Oh, that "perfect saddle height"? By the time I returned home, it wasn't quite as perfect. I remembered that the 24mm seatpost is actually thatmuch too small. A quick insertion of a shim made from from a pop can solved that issue. The slight hiccup seemed apropos for the first ride on this bike.
A huge thank you to @baughblabs for his patience through the process and his aesthetic when it came to so many small details.
Because after all, those are the things that come to matter most.
(Read Part 1: A Labor of Love here)