Knights of Mo'Bay has World Cup National Jerseys and More
One of our awesome Loving the Bike sponsors is a company called Knights of Mo'Bay.  We wanted to provide more information about who they are and what they do, so I asked Royston to fill us in.
Knights of Mo'Bay Cycling Apparel
– by Royston Taylor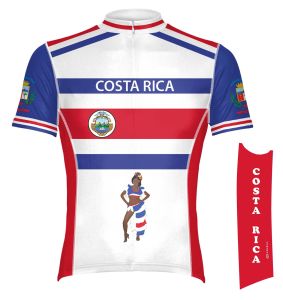 We actually do have a fair number of cycling jerseys of some of the World Cup soccer teams, but not by plan.  Costa Rica, Nigeria, and Ghana to name a few.   Knights of Mo' Bay started designing country jerseys purely accident.  A frame builder requested a Ghana Jersey to complement their "Made in Ghana Bamboo" bikes.  I happily designed the Ghana jersey which coincidentally represented my ancestral heritage and moved on.
I do a lot of fun, one-off designs and did not think any more on it.  A few months later, I received a passionate phone call from a cyclist requesting a Lone Star Cycling Jersey after seeing my Black Star Cycling Jersey on a century ride.  First, I inquired, what is the meaning of Black Star and Lone Star?  I quickly got a lesson in the various soccer monikers which are substituted for the names of the countries by rabid soccer fans.  Lone Star for Liberia, Black Star for Ghana and the Stars and Stripes for the US to name a few.
Turns out, most cycling apparel companies that carry national jerseys, do not carry third world country jerseys.  Knights of Mo' Bay sensed an opportunity and has been designing Africa, Caribbean and Latin America cycling jerseys based on customer demand and customer request.  We currently have 30 jerseys in production or development.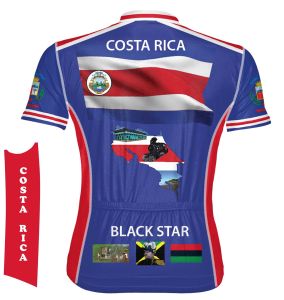 Who knew two years later, my website would be hammered by cyclist watching the World Cup matches and looking for Costa Rica, Nigeria and Ghana jerseys.  Such is the world of men's cycling jerseys;   the jerseys feed a need, a passion and provide a vehicle of communication to other men in the pack.
Many men select their jerseys based on what it can say about them.  Cycling jerseys tell you, their past, present, heritage, favorite sports team, favorite beer, music or dog breed.  You can learn a lot about a male cyclist by observing the various jerseys that adorn his torso.
Knights of Mobay Affinity jerseys are in many ways unique, they reflect the culture of the country or subject. Check out the Mardi Gras jersey and feel the rhythm, the soul, the food and music of New Orleans.  No cookie cutter national designs here, even where flags and cultures such as Cuba and Puerto Rico may appear similar, but like the differences in their Batá and Bomba drum, so are their jerseys are different.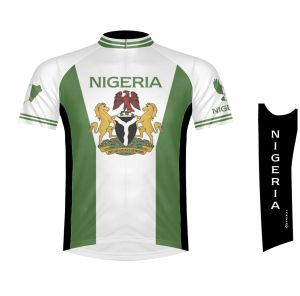 The Cuba jersey incorporates the Santeria (Regla de Ocha) religious icons, Havana classic cars, Rumba dancing to Bata drums and old lady smoking a big cigar.  The Puerto Rico jerseys in corporate Samba music with Bomba drums in old San Juan, the Castillo de San Cristóbal, the coqua, the frog  which cannot survive off the island and Boricua moniker. We assumed expatriates would purchase these jerseys.  But orders came in from Europe, Utah, Wyoming, Arizona and Washington DC and the customers where European and Americans.   We discovered that folks who were stationed in foreign countries as military personnel, members of the state department or civilians working for foreign nationals and most interestingly former members of the Peace Corp or Mormon Missionaries were the customers.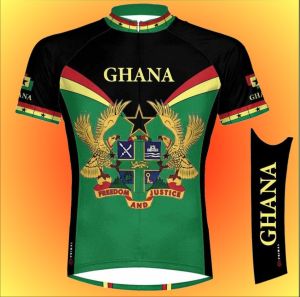 I received notes, …"I was in Jamaica and used a  bicycle as my preferred transportation during my 18 months missionary service in Mandeville and love my jersey, it reminds me of my fun days spent climbing loose stone roads getting from one village to the next"… Another email, " I've been looking for a Kenya jersey off and on for several years. I was a Peace Corps volunteer in Kenya teaching secondary school a very, very, long time ago. (I'm 68 now.) There were a lot of bikes there then–mostly "Anchor Brand", an early Chinese copy of old Raleigh three-speeds, purely for work and transportation".
Knights of Mo' Bay jerseys display your heritage, remind you of youthful past, show your passionate connection to another nation culture, heck your favorite vacation spot.
Oh yeah, you can wear them the day after your National Soccer Team demolishes their opponents.  Show your passion, your affinity, your connection, show your colors!
For more on Knights of Mo'Bay, or to purchase their clothing visit: www.knightsofmobay.com.