The iBert Safe-T-Seat
Looking for a cool way to carry your infant on your bike?  You might want to check out the iBert Safe-T-Seat.  As some of you may know, I have a bike crazed baby in the house…and if you'd like to see how much he loves bikes, check out this video from last year's TdF.  So any system that allows him to jump on a bike is worth trying out to me.  Find out what this Daddy has to say about using the Safe-T-Seat with his baby boy.
We don't do a whole lot of reviews over here at Loving the Bike as we'd like to leave those up to the sites that specialize in reviewing bikes and equipment.  We also tend to give one of the products away when we do a review, which unfortunately wasn't possible this time around.  So why then did I jump on the chance to review the iBert Safe-T-Seat?.  I've been pulling my Son behind me in our Chariot up until now, but being the wild and adventurous kid that he is, I knew he would like to try something like the Safe-T-Seat.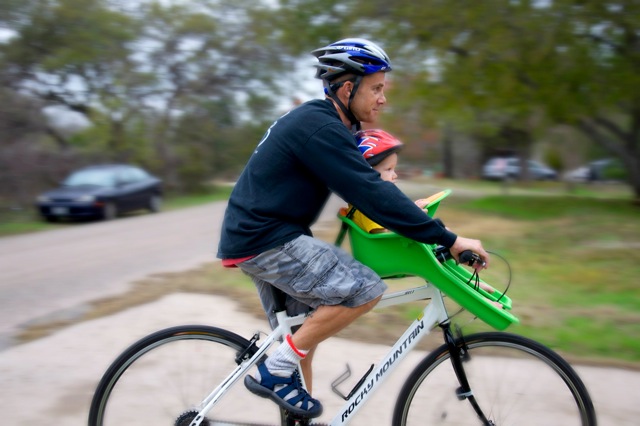 I'm not much of a mechanic or tool inclined handyman, but when I went to mount the seat on my urban bike, it all went quite smoothly.  The set up was actually a lot easier than I was expecting it to be, and the only hang up for me was getting the safety ring pin in place.  Once it was together I took a good look at it before tossing my baby boy up there because being the over-protective Daddy that I am, I wanted to make sure it was totally safe for him to ride on.  There really isn't too much to this system and to be honest, I felt a little unsure of the fact that this one little safety pin was holding everything together.  After shaking it around and putting some pressure on the seat, we were ready to give it try.
When I asked River if he'd like to go for a bike ride with Daddy, his eyes immediately lit up, his beautiful smile filled up his face, and lifted his arms in the air for me to grab him.  Getting him set up on the seat and strapped in was quite simple as well.  I just leaned the bike against the wall, supported it with my body, and got him into place.  It was so cool to be riding and have River right there with me.  I could talk to him, hear what he had to say, and still watch the road at the same time.  I was a little cautious on the turns as I wasn't sure how the extra weight over the handlebars would affect things.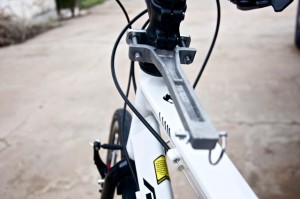 I have a few minor non-positive comments to make on the Safe-T-Seat, and one big one.  When the seat isn't secured onto the "stinger system" (see picture to right), it's a bit of a pain to take it on and off the bike.  The bike can still be ridden with it on, but when turning is can scratch up and rub against your legs.  Getting off the bike with River up on the seat was a little difficult as well.  Because the seat takes up most of the space over the cross bar, you can't straddle the bar and place your foot on the ground when stopping…..I had to jump right off the bike.
The big comment, is about safety.  I feel that the Safe-T-Seat is a cool toy to ride around the neighborhood with my Son, but would never take him onto a busy road or on a longer ride with it.  Even as an experienced rider, I don't feel completely in control with him up there.
Here's a few facts about the iBert Safe-T-Seat for you, and be sure to contact me if you have any questions or would like to know more about our experiences with it.  The Safe-T-Seat from iBert retails at $109.95 and is available at quite a few retailers including REI.  For a list of retailer, you can check out their list right here.  The seat is made for children aged 1 to 4, to a maximum of 38 lbs or 44 inches in height.
Will it fit your bike?
"It fits more bikes than any other front mounted seat.  A minimum of 3/4 inch is needed on the handle bar stem to accommodate the stinger assembly."
Does the safe-T-seat meet ASTM 1625-00 standards?
"Yes and no. The safe-T-seat is designed to meet all 1625-00 standards, which it does. But ASTM 1625-00 is written for rear child carriers so front mounted seats do not apply at this time. One of our goals at iBert Inc. is to petition and work with the ASTM to create a new ASTM standard for all front mounted seats that is above ASTM 1625-00."
Final Word
I would say that short rides are best for the iBert system and you probably won't want to use it on a long ride.  Think of it more as a fun way to ride around with your child in the neighborhood, but when going on a longer journey stick with a trailer or possibly some other carrier. Although having my Son right there with me in the front is very cool, I personally prefer using a trailer for carrying him.  It just feels so much safer to me.
River looked so cute on there that I just had to put up a few more pictures: