#bikeschool: Cycling as a World Financial Booster
If everyone rode bikes, would the World be free from economic issues?  I'm no financial expert, but I sure would love to give it a try and see what happens.
With all the great work Stevie does over here with the weekly #bikeschool posts, we're giving him the day off so that I can post about some #bikeschool related thoughts that have been consuming my mind.
Back on January 26th, @steviedexter was wearing the #bikeschool professor hat and, as always, was laying down some fantastic questions for the class to respond to.  There was one question in particular that has stayed with me ever since he asked it: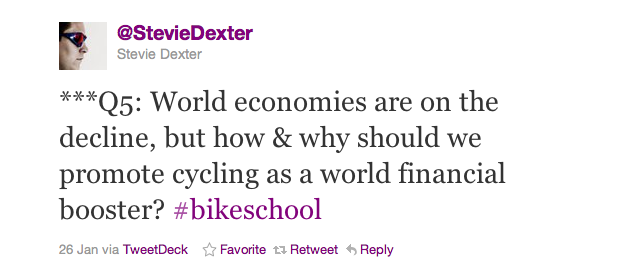 It's a pretty deep question and there were some fantastic responses from the classmates attending.  Some tweets were humorous, others were philosophical, and mine was just based on the first thing that popped into my head.  Here's how I responded that night: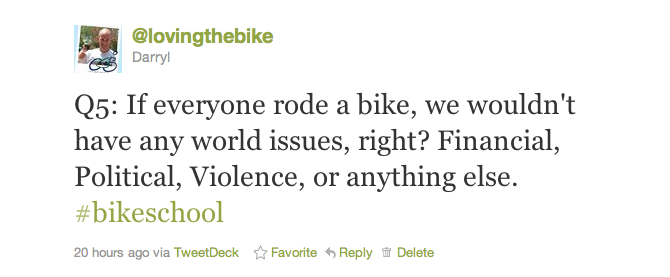 Yeah, kind of a bold statement, and obviously coming full-out from a passionate cyclist's perspective. Who am I kidding?  I don't even know what requirements it would take to boost the World economies….and where did that comment about violence come from?  That wasn't even part of the question.  But hey, what can you do when you're an enthusiastic cyclist taking part in #bikeschool?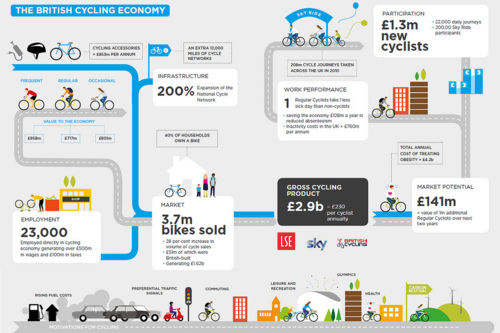 Now I could get into extreme detail….pulling out statistics, historical events, and other information showing what could happen if we all rode bikes.  But there is a whole bunch of great information already floating around out there, and all it takes is a quick look at the websites of Bikes Belong, League of American Bicyclists, People for Bikes, and many others….to see what they have to say about the economic impact of bicycles. This little graphic on the right is another cool look at bicycles and the economy.  The image is a little small, but you can view a larger version in this report put out by The British Cycling Economy.
So my simple, un-explained, and un-backed up answer is….YES.  Bikes most definitely would be a World Financial Booster.
But what about you?  I'm pretty sure y'all are far more educated on world economies and politics than I am, so what do you think about this question?  Am I right, if everyone rode bikes would it greatly benefit the world and boost our economies?  Come on, give me your help and prove me right.