5 Things to do With Your Road ID in the Off-Season
I've been wearing a Road ID on my wrist for about the past 5 years.  Luckily I've never needed any medical staff to make use of it, but I like having it there.  To be honest, I dig it for other reasons than what it would provide for me if I was hurt on the ride.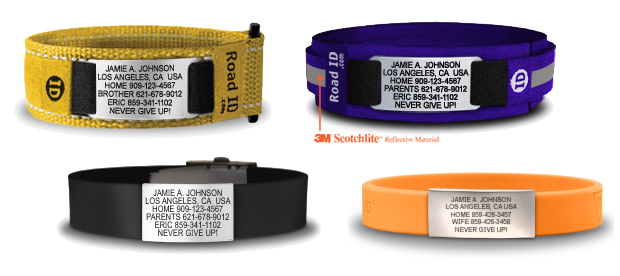 I thought it would be cool to list off 5 things for Road ID in the off-season.  If you're not out there cycling your local roads during the winter months, here's my list of what your Road ID can still do for you.
A daily reminder of who the most important people are in your life.  If you're like me, you've provided those closest to you as your emergency contacts.
Style.  Plastic jewelry is like the most stylish option in my opinion.  Gold, Silver, and the like might make you feel like you're cool….but rubber and plastic totally makes you hardcore cool.
Games.  If you wear one of the Road ID necklaces, try grabbing it and throwing it so the necklace spins around your neck.  See how many times you can make it around.  Yeah, a great little game to keep you entertained while waiting to get back on the road.
Clean.  Do you wear your Road ID bracelet day in and day out?  It's probably gotten quite gunked up inside the clasps.  Take it off and use your extra time to clean it up.
Inspiration.  Hang it on your wall and look at it every day.  While staring at it, envision how awesome you're going to perform on the bike next season.  Visualize all your goals and see yourself achieving them.
Win a Road ID Gift Code
This contest is now closed.  Thanks to everyone who entered….we've e-mailed codes to our two winners.
Okay, your turn.  We have two Road ID Gift Codes available so that you can grab any of the products they have available.  To enter, we need you to leave a comment with one thing a Road ID can do in the off season.  Leave your comment by noon on Thursday and we'll randomly select winners on Friday.