Loving the BITE: Beet the Bloat Smoothie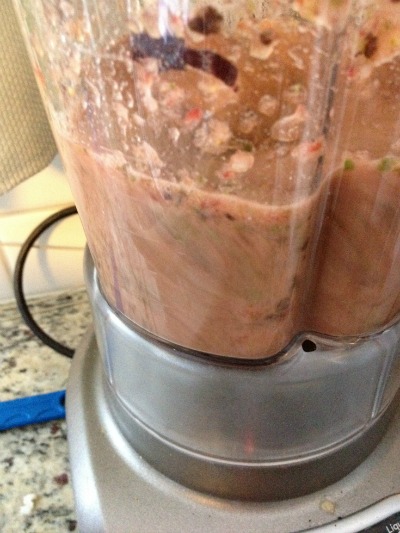 Feeling stuffed in the midst of Holiday celebrations? I've got another antidote for you.  Last year I introduced a junk food anti-venom smoothie, and highlighted the power of celery to reduce water retention often brought on by too many sweets and salty foods.
Often times, while some weight gain during the Holidays may be legit, much of it is just the fluids our bodies retain from these rich foods.  And although I believe doing your best to control portions and eat well during the Holidays is the best plan, it doesn't hurt to have a strategy to minimize the damage after the fact as well.
Here's a new smoothie, with beets and cucumber to reduce the post-Holiday bloat.
Recipe of the Week:  2013 Beet the Bloat Smoothie
Ingredients:
1 cup Spinach or Greens
1 medium (2-inch) beet, chopped (peeling is optional and not necessary)
1 medium carrot, chopped

1 cup frozen cherries (or berries if cherries not available)

1 scoop (10-20 grams) protein powder, preferably undenatured whey, pea protein, etc.

1 cup brewed green tea OR 1 cup water + 1/2  tsp. matcha green tea powder

ice as needed
Instructions:
Place all ingredients in blender and process until smooth.  Add ice as needed for desired consistency.  Serve at once and enjoy.
Comments:
In the spirit of letting our food be our medicine (Aristotle), we can use specific natural whole foods to reduce water retention and toxins in our cells, tissues, and joints.  This water retention is often most noted after we eat high-sugar or high-salt foods; however, medical issues, medicines, and hormonal changes can all be a cause as well.   As we've discussed, celery is great for reducing the bloat.  A few more all-stars? Beets, carrots, cherries, and green tea.  All of these ingredients provide gentle diuretic and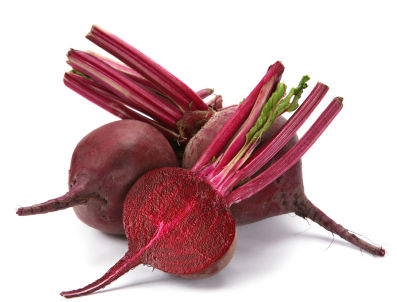 detox benefits.  To learn more about each, click on the links below:
Beets:  Click to learn how beets pack the 1-2-3 wellness punch with anti-inflammation, antioxidants, and detox nutrients.
Green Tea: One of the most healthful drinks available, green tea is a gentle diuretic that offers a lot of eye health, cell health and antioxidation, and weight loss.
Tart/Black Cherries: Cherries are packed with nutrients and specifically help flush toxins and fluids that can build up in joints.
Carrots: Carrots are specifically high in a super-nutrient vitamin A (beta-carotene), and can reduce fluid retention in tissues.
What a full Detox Smoothie Cleanse Plan for the New Year? I offer a 3-day to 30-day plan that can get you off to a great healthy start in 2014.  It's full-nutrition, completely safe and healthy, and has a 100% track record of weight loss (even just for the 3 day plan).  Simply click on the Apex Nutrition logo on the right to head over to Apex Nutrition to purchase it, and enjoy a 15% discount by using coupon code: lovingthebike.
And last but certainly no least, you know what else takes the bloat right off? Sunshine, cycling, and sweat.  Get outside as much as you can and get a good ride in.  With the combo of cycling and a good detox smoothie, you can feel better than ever in no time.  
Fuel Your Ride.  Nourish Your Body.