Optimal Weight in 2015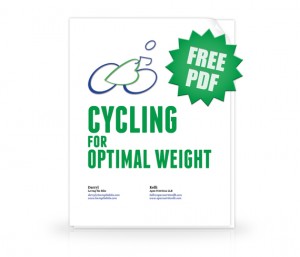 We all know that weight loss is one of the biggest resolutions made each year.  So if you're a cyclist looking to drop some weight this year, we've got a min-E-book to help you make it happen.
Think of it this way.  We all want to get a new bike and/or accessories to lower the weight of our bikes and thereby make climbing easier, and our speed faster.  Well, it's much easier (and cheaper, and healthier) to drop some weight on the rider instead.
Here you go….our 2015 gift to you.  The Cycling for Optimal Weight Min-E-Book:
http://lovingthebike.com/cycling-for-optimal-weight.pdf