Loving the BITE: Just 3 Words – Dried. Mango. Strips.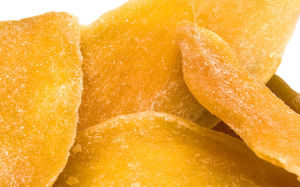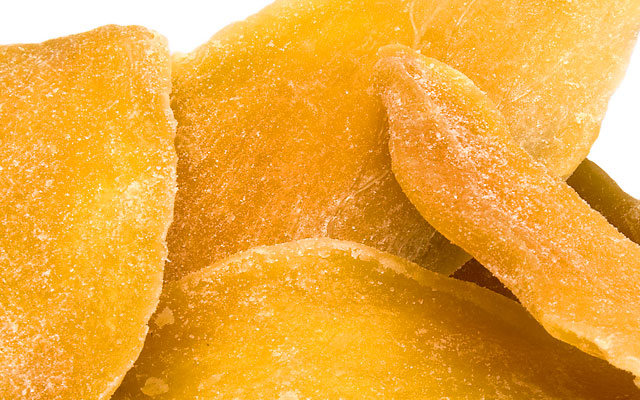 You want real foods on the bike?  I've got 3 words for you: Dried. Mango. Strips.  They're portable, they're not sticky, not too sweet and incredibly refreshing.
But, how do they stack up to other fueling options?  Are they a good choice in terms of nutrients that your body can use while pedaling?
This week, we'll take a look at dried mango strips vs. some of the available "gummy" fuel options such as chomps, bloks, chews, etc.   We'll look compare the main nutrients needed while cycling, and determine which should be in your jersey pocket.
It's sort of a non-recipe recipe this week.
Recipe of the Week: Dried Mango Strips
http://styledsnapshots.com/about generic viagra usa Ingredients:
3 dried mango strips preferably organic or without added sugar
order generic viagra Directions:
Find good quality dried mango strips – preferably without added sugar and sulfates.
Take a look at the nutrition label to determine the amount that supplies 25-30 grams carbohydrates.
Eat 1 serving per hour when riding (25-30 grams carbs).
http://she-conomy.com/pick-my-brain canadian pharmacy online Comments:

Easy enough right? Find. Buy. Eat. Well, for any readers who want more information before they find, buy and eat, here's my comparison of dried mango vs. commercial sports nutrition "gummies:"
Taste and Texture: First, mango strips just taste good.  And, if you find the ones that do not have sugar added, they are not overly sweet.   They usually remain moist and have a good texture, so they are easy to get down.  On the other hand, I think Powerbar gummies, Clif Bloks, and other fueling "gummies" taste okay, especially if you don't overdo them.  However, I definitely get sick of them if I use them hour after hour.  I don't get sick of mangos.  In my book, mango have the edge for taste and texture.
Carbohydrates and Quick Energy Ingredients: You'll get about 30 grams of carbs in just 3 mango strips – that's a lot of bang for the volume.  Since I can eat these rather quickly, it's an easy 30 grams of carbs for me.  The carbohydrate make up of mango is approximately 38% glucose (a combination of natural-occuring glucose and sucrose) and 58% fructose (a combination of natural-occuring fructose and sucrose).  With our sports gummies, and specifically powerbar ones, you get the trademark 2:1 ratio of glucose to fructose.  This ratio has been supported in some research as the ideal ratio for the uptake and usage of carbs during activity.  So, in terms of the ratio, the gummies would win (mangos provide approximately 1:1.5 glucose:fructose).
However, I don't know of a study that compares the uptake and usage of mango strips vs. gummies directly.  And, if you follow some of the studies that show natural foods, like honey, to be as effective as maltodextrin for carbohydrates during exercise, you may not put all your stock in "engineered" fuels with this ratio.  What's more, there are definitely many athletes who experience stomach distress with the isolated fructose that's added into the engineered fuels, but don't with natural fructoses in fruits, honey, and sugar (sucrose).
My conclusion, by the numbers, the engineered sports "gummies" may have an edge.  But, I've been riding, and providing sports nutrition coaching long enough to know that sometimes real food carbohydrates simple "settle" better.  For this category, it may simply depend on your individual digestion tolerances.  And, of course, if you choose a drink that's mostly glucose or maltodextrin, you can improve this ratio in your hourly intake.
Protein: You generally won't find significant amounts of protein in either mango strips or gummies.  This is fine with me as whole protein are not necessarily for most exercise, and do predispose many athletes to stomach issues.
Sodium: There's not really any sodium in the mango strips.  Bummer, as far as sodium replacement goes. There is however, 50-100 mg sodium in most sports gummies.  If you can't get in enough sodium through your drink and/or other fuels, and you decide to use mango strips, I would recommend chopping them and shaking them with 1/12 tsp salt.  This will provide about 200 mg sodium, an advantageous amount compared to most chews and chomps.  So, as is, the engineered chews have the sodium advantage UNLESS you add salt to you mangos.
Whole, Real Food Fueling: Except for a few select brands, such as Organic Honey Stinger Chews, mangos have the obvious advantage when it comes to whole, real foods.  And, when you take a closer look, they have the advantage over these brands as well (Organic Honey Stinger Chews contain more evaporated tapioca syrup and evaporated cane juice than honey).  And, while I still think these brands are good options, they are set up to fuel at specific ratios rather than simply be a food.  Really, this category largely depends on individual preference and any value placed on real, whole foods.  I do place value on it personally.  I generally feel better and have less digestion issues when I at least use a combo of real foods and engineered ones rather than only gels, chews, chomps, etc.  However, there are many athletes who do fine on only the fuels.  And, as long as these athletes place a high value on whole, real foods in everyday eating, I think "engineered" ones in training are okay.
How about you? What easy real-food option do you choose? Which would you like me to review?
Do you use any real, whole foods to fuel mile after mile? What sounds good to you on the bike? What works for you?  Would you like me to do a comparison?
Mmmm. Just thinking of dried mango strips is motivation to go on a ride.  We hope you find you fuel and enjoy the your bike this week.
Fuel Your Ride. Nourish Your Body.