Loving the Bite: Meat-Eaters, Think About What Your Dinner Ate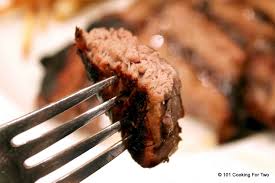 I'll be honest, this is likely not Darryl's favorite recipe.  Here at Loving the Bike, we have a good amount of balance…I am a plant and meat-eater who belongs to a family that owned and operated a small Organic and Grass-fed Cattle Ranch in the mountains of Colorado for over a hundred years.  Darryl does not eat meat and operates his own company on a beach.  He serves great coffee, my grandfather "the rancher," drank horrible coffee.  Darryl enjoys a bit warmer weather than me.  There's a good chance I'll still see a snow storm this year, and I don't think Darryl will get below 80 degrees anytime soon.  Most every day, Darryl can be found riding his bike on the road at one time or another; I prefer single track on my mountain bike.  But, we've got lots in common, too.
We both love the bike, no doubt.  We both recommend a "clean eating plan" – meaning whether vegetarian or omnivorous, it should come from high quality foods, little processing, whole-food carbs, good fats, adequate protein, and lots and lots of vegetables.  And when possible, local, organic foods.
So, you can blame this recipe squarely on me.  It's a post about red meat, and how the diet of what you eat affects the nutrients in its body and yours.  If you're about ready to grill and you like beef, venison, or elk, keep reading and find out why grass is a better diet than grains (or worse) for your dinner's dinner.
Recipe of the Week: Marinated Steak
Ingredients:
1 pounds local or organic Grass-Fed Beef, Elk, or Venison boneless chuck steak

1/4 cup

 Bragg's Liquid Aminos, coconut aminos or soy sauce

1/3 cup

 

olive oil

1/3 cup

 

fresh lemon juice

1/4 cup

 

Worcestershire sauce

1 1/2 tablespoons

 

garlic powder

3 tablespoons

 

dried basil

1 1/2 tablespoons

 

dried parsley flakes

1 teaspoon

 fresh 

ground pepper

1/4 teaspoon

 crushed red chili flakes or 

hot pepper sauce (optional)

2 teaspoons

 fresh 

minced garlic

2 tablespoons water
Directions:
Place all ingredients except steak in a large baggie or bowl (with lid) and mix well.  Add steak; cover, and refrigerate for 8-12 hours.
Cook steak as desired (great on the grill). Pair with a fresh salad such as our Lucky Kale Salad (yum!)
Comments:
Have you ever really thought about the diet of your dinner? If you're a meat eater, you should (if you're a vegetarian, this question makes no sense whatsoever!).  Why?
When animals are fed grains instead of grazing on grass, even if it's just to "finish" off their feeding to make them gain more weight, the fat make-up of their meat is altered.  With 100% grass-feeding/grazing, the meat has higher amount of healthy (anti-inflammatory) omega-3s.  With grain-feeding, the meat has a lower omega-3 composition and higher omega-6.  It's this ratio of omega-3s vs. omega-6s that's important for overall inflammation in our bodies.  This bodily inflammation doesn't just affect things like joints and arthritis…it has implications for most all chronic disease (diabetes, cardiovascular disease, etc).  And, while there is not a lot of omega-3s in red meat to start with, and even grass-feeding doesn't increase it anywhere near high omega-3 foods like fish, a recent study suggested that grass-fed red meat eaters had a better omega-3:omega-6 ratio (http://cdn.marksdailyapple.com/wordpress/wp-content/uploads/2010/12/McAfeeGrassfedbeefbettern3thanconventionalbeefBJN2011-2.pdf
What's more, beef from grass-fed cows have other differences in fatty acids. Namely, they have twice as much conjugated linoleic acid (CLA) than grain fed cows.  Cow's digestive bacteria are able to convert the linoleic acid in grass to CLAs. and cows eat a lot of grass!  This is important because CLAs are thought to be disease preventing and health promoting in human nutrition.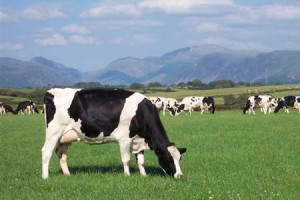 Since I enjoy a good burger now and then (and my husband a good steak), I try to make the healthiest choice possible.  If I can, I always choose elk first.  If not, and I'm left with beef, I'm as choosey as possible.  But, I, too, have a grocery budget and I know it's expensive to be choosey!  I do my best to save money in other ways, by eating more meat-less or egg-based dinners, cooking at home rather than going out, and absolutely minimizing over-priced processed foods so I can spend a bit more on organic/grass-fed animal products.  Another option in many areas is to buy it straight from the rancher…here's one site that lists ranchers that grass-fed beef: http://www.eatwild.com/.
If you can't find grass-fed and finished beef, but still want to eat red meat, choose organic when possible, and hormone and antibiotic free at the very least.
As athletes, we often have extra inflammation and oxidative stress in our bodies.  We also have high protein needs – much higher than has been historically taught and recommended (for daily nutrition, endurance athletes are often way high on carbs and way too low on protein).  It's important to find healthy protein sources that provide beneficial nutrients for our bodies (whether vegetarian or meat-eating), rather than eating the least-expensive, cheaply fed, unhealthy ones that drag us down.  And, while I know those huge, family sized hormone-enlarged budget meat packs are tempting when you're concentrating on the money, it never helps to save money on food only to spend it on sickness.
This week, when eating meat, take a minute to think about where it came from, if it was grazed or lived in a feedlot, and what it ate.  Just think, what your dinner ate may affect your ride tomorrow.
Fuel Your Ride. Nourish Your Body. 
image c/o: www.101cookingfortwo.com