Loving the BITE: Slow Cooker Carne Asada (PLUS Vegetarian Options & More Delicious Taco Ideas)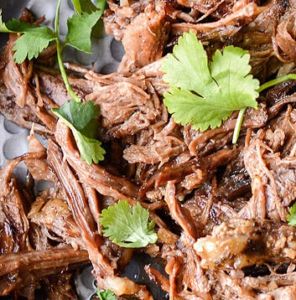 A couple weeks ago I posted a taco recipe that will change your life. Today, as promised, I have some ideas for taco fillings…the protein part. Each of these works great with the delicious taco cabbage slaw, cilantro, and home-fried shells! And although this recipe is a bit of a "cheat meal" for anyone trying to stick to lighter eating for weight or health goals, it is still highly nutritious and well worth the extra calories. Here are some of my favorite ways to stuff a taco, and why I believe delicious, satisfying, high-calorie meals (or cheat meals) are imperative to healthy eating.
Recipe of the Week: Delicious Slow Cooker Carne Asada
Ingredients
2 pounds flank steak or roast (grass fed, local, or as high quality as possible – also works well also with venison, elk, or bison)
1 teaspoon smoked paprika
1 teaspoon cumin
1 teaspoon chili powder
½ teaspoon salt
½ teaspoon pepper
1 teaspoon onion powder
1 teaspoon garlic powder
1 teaspoon dried oregano
2 tablespoons avocado oil
¼ cup freshly squeezed orange juice (about 1 orange)
¼ cup freshly squeezed lime juice (about 1 lime)
¼ cup freshly squeezed lemon (about 1 lemon)
¼ cup soy sauce
2 tablespoons apple cider vinegar
Instructions:
Whisk together spices and oil in small bowl. Rub spice/oil mixture onto all sides of steak or roast.
In another bowl, whisk together the orange juice, lime juice, lemon juice, soy sauce, and vinegar. Pour half of this juice mixture into slow cooker.
Place rubbed meat in slow cooker, pour in the remaining juice mixture, and cover and cook on LOW for 6 hours.
Once cooked, remove meat, let set for 5-10 minutes and then thinly slice, shred or chop.
Place back in slow cooker with juices until ready to serve. Serve with delicious home-fried tortillas, cabbage mix, and cilantro!
Other Meat/Protein Ideas of Tacos that will Change Your Life:
Pork: Place 2-3 lb pork shoulder roast in slow cooker. Sprinkle all sides with garlic powder. Pour in 28 oz. jar pepperoni peppers (pour in liquid as well). Cook 6-7 hours on LOW. Serve in Tacos as above.
Chicken: Place meat from rotisserie or cooked chicken (removed from all bones and chopped) in skillet. Sprinkle with lime juice, salt, pepper, and cumin to taste. Serve in tacos as above.
Fish: Bake wild-caught white fish in oven, with butter (or avocado oil drizzled), lime juice, salt, and pepper. Serve in tacos as above.
Beans/Quinoa: Mix 1.5 cups co0ked quinoa and 1 can black beans (drained) in skillet.  Heat and season with 1 Tbsp olive oil, 2 minced garlic cloves, 1 teaspoon cumin, 1/2 tsp ground chili powder, and salt/pepper to taste. Mix well and serve in tacos as above.
Eggs: Use your favorite huevos rancheros recipe to fill your tacos. Serve in shells, with cabbage slaw and cilantro as directed above.
Comments: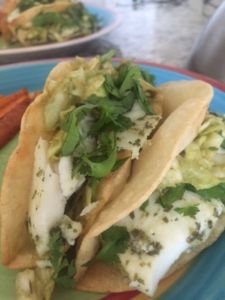 Remember those delicious beer battered fish from April? They are one of my favorite cheat meals. And now that I can't get enough of these tacos (alternating the fillings listed above), tacos are my other favorite. Mmmm. Having these 2 dinners each week, makes all the smoothies, 1/2-plates of raw vegetables, and other healthy meals go down even easier.
Of course you can make tacos a bit lower in calories. In fact, if you're trying to lose weight but don't want to use up a cheat meal, go shell-less and you have a great "light at night" dinner. But if you do want the real thing, and are willing to use up a cheat meal OR if you're already at your goal weight, go for the real thing. That's the whole point. I won't dare tell you every meal has to be skimped. And don't you dare try to healthify or low-calorie-fy my cheat meal. Cheat meals have to be satisfying, the real thing. It's the old "Snackwells" tactics of reducing fat and turning dessert into diet foods that has contributed to the mess I see in which so many live as "dieters." While I think it's fine to make many foods and recipes healthier, cheat meals are shielded from it.  Let's not be dieters.
Instead, let's be smart, fit, strong eaters.
Here's one thing I've learned over the last 13 years of working with lots and lots of folks who are trying to lose weight, eat healthy and ride their bikes well.
When it comes to flexibility in their meal planning, being satisfied with food and what they're able to eat, and really seeing this style of eating as a long-term lifestyle, here's what I found works best for the majority:
2 two cheat meals per week
These cheat meals are not haphazard nor a surprise, most of the time. They are planned out, thought out, looked forward to, and even cherished. They are what allows for the fun in eating; Pizza Friday, birthdays, parties, barbecues, and more. They really help out on vacations. And the best of all, they help to take away the "diet mentality" by making everything within-the-limits, and nothing completely off-limits. Yes, even eggnog.
It's simply part of human nature to want things you cannot have, and for many dieters the foods that are not allowed are often the ones they want most. But, give them what they want and it often becomes a nonissue.
That's right. Gimme some beer-battered fish and home-fried carne asada tacos.
Here's all that I ask from my clients who have weight/fat loss goals:
Keep it to two per week.
If possible plan them ahead of time.
Eat slowly and stop when you're full.
No guilt before, during, or after.
Don't gorge yourself – mostly just because this is not our goal with food.
That's it. I'm often asked about the popular 80/20 rule and entire "cheat days." With the 80/20 rule (80% on plan, 20% off) I find that it allows for so much cheating that there is often a group of consecutive days on-plan. And, this can stall their progress. With full day cheats, I've seen complete sabotage of all the hard work put in the rest of the week. In one day. That just doesn't seem fair.
I'd call this 2-cheat-meals-per-week more 90/10.
Again, I believe this is somewhat individual and many different philosophies work for different people. For me and the majority of my clients, though, delicious cheat meals twice a week work well. Today, I'll leave you to ponder what delicious cheat meal you might include this week. Let it motivate you to stay on track with delicious, wholesome, on-plan meals and snacks the rest of the time. Or, maybe it will even motivate you up that last tough climb for some carne asada recovery!
Fuel Your Ride. Nourish Your Body.
If you'd like to work with Kelli one-on-one with a Custom Nutrition Plan & Coaching, or download one of her acclaimed Instant Download Plans like Fuel Right Race Light, click here: Apex Nutrition Plans for Endurance Athletes. Be sure to use coupon code lovingthebike for a 15% discount!