Cycling the Malaysia Interstate: Support and Hotels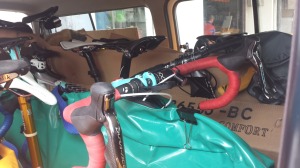 Last week I wrote up my experience riding Interstate, a three-day, 525 km ride in Malaysia. During the event I spent a good chunk riding, and slightly more time in the van doing support for other riders. Having done support for an ultracyclist, I was familiar with how it should work, and how important it to be quick and efficient.
Before the ride we had loaded the vans with water, Revive, bananas and the ever important Coca-Cola. By the end almost everything disappeared, except some less-than-appetizing bananas. Whenever we stopped the van I'd hop out and grab bottles from bikes to fill up, dole out bananas to our riders, and even do banana hand-outs to other riders going past. This last bit means I got a lot of thanks in elevators at the hotel later on, and everyone knew our team name OK Go!.
Having a van or two running support for such an event meant if someone needed food, water or had mechanical or medical trouble, it was available. Also, if someone couldn't ride on, they could get in the van and enjoy the aircon and recover for the next day.
Moving on to other aspects of the event: accommodations. I didn't know what to expect staying in random hotels in Malaysia. My experiences have only been at pricey places here on the island, so I was a bit spoiled.
The first night, before the ride, was Tune Hotel. None of the rooms had any windows, so it was a little weird feeling like I was in a closed-in box. Hello claustrophobia. Tune Hotels are a bit like AirAsia, if you've ever flown them, in that you pay for any extras. Wifi, air-con, even towels are extra, but thankfully included with our rooms this time around. Overall, the place was clean and that's really what matters.
The second night, oh boy. Fraser Pines is not a place I care to ever see again. It was old, dirty, falling down and generally just very gross. In one of my team's apartments there were dozens of bees congregating around a recessed light. The only thing I dared to touch was the bed, and even then I found it hard to get any sleep due to bright lights just outside the window. At least it had windows?
The third night was way better than the previous two, at Star Regency Hotel. This was also apartment/suite style so the team could hang out after dinner, prepping bikes and talking shit about the day's riding. The place was clean and considering it was freezing on top of Cameron Highlands the hot shower was seriously appreciated.
Finally, the place that clearly cost the most and caused some skimping on previous nights: Swiss Garden Hotel and Resort. While older and the beach less than great, here was like other places I had stayed: clean, big rooms, coffee and water pot provided and upgraded bathrooms. If I was ever in the area again, I would definitely stay there, again.
That about wraps up my posts on Interstate. I'm looking forward to next year's ride, since it will most likely be a tad easier of a route. Maybe I'll actually train for it?