Five Brilliant Accessories for your Bike
This bike accessories post is a paid article by the folks at Money Matters, the Sainsbury's Bank blog.
5 Brilliant Accessories for your Bike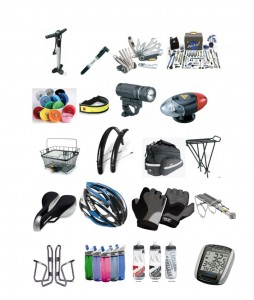 Does my bike look good in this? Have you seen my new bike gadget? High spec road bikes can be adorned with many extras to make them look the part, yet there are also practical gadgets that can make life on the road easier…
The Guardian reported that, after last year's epic summer of sport, a growing number of people have been inspired to take up cycling. It also reported an increase in bike and accessory sales. Whether you've put the pennies away for your dream machine or plan to take out a loan to help finance a new bike, you may also need to factor in accessories with your purchase.
Here are the accessories:
1. Go Gadget Go!
GPS apps are popular, especially since your phone is a ready-made computer capable of undertaking most tasks. The Cyclemeter 8 GPS Bike Computer can record ride time, distance, average speed, route map and even graphs of elevation and speed. Its memory can run for about 15 hours before it needs recharging. BikeCharge is a dynamo system, powered by your wheel, which can charge most USB powered devices.
2. Dress to impress?
Cycle shoes that can be worn anywhere are increasingly popular. DXR's range appear like normal tennis shoes, but have special "power-transferring" rigidity, and SPD soles to clip to pedals. Meanwhile, Osprey cycling bags include a rehydration backpack, featuring a built-in water pouch which can be drunk from a tube round the shoulder.
3. Making light of it
Illuminating the choices of bike lights is the Smart Lunar 35 Lux. The front and back lights are quite strong for an inexpensive set and very bright. The front one is powerful – yet not to the extent of dazzling motorists.
4. Lock it or lose it
The Kryptonite New York range is thick, posing a challenge for even hardened thieves. A cable model, such as the Abus Centuro 860mm, is an option as a secondary lock.
5. Tooled up
The Specialized EMT Comp multitool is handy and includes allen keys, tyre lever, chain link remover and more.
Way ta go!
Last but not least is deciding on accessories you like. The 2012 summer of athletics might have fired a starting pistol for cycling fashion, however there is a wide range of accessories to choose from online.
This guest post was written by Andy Moore on behalf of Money Matters, the Sainsbury's Bank blog. Though it may include tips and information, it does not constitute advice and should not be used as a basis for any financial decisions. Sainsbury's Bank accepts no responsibility for the opinions and views of external contributors and the content of external websites included within this post. All information in this post was correct at date of publication.