Loving the Commute: Edition #4
This edition of Loving the Commute includes a fantastic commuting video, featuring and edited by Aaron Madrid.
Truly Loving the Commute
by Aaron Madrid
In addition to being a lot of fun, commuting by bike has many other benefits as well.  There are stats all over the internet that point to health and cost benefits, not to mention the more obvious points.  For me, commuting to work was a goal more closely tied with weight loss to start with.  I began riding my bike because I wanted to get fit, but I keep riding my bike because I love it.  Commuting to work by bike was my first big hurdle and once I accomplished it, I couldn't believe it had ever even been a goal. I think that most people I speak to about the subject tend to agree with that sentiment.  Getting out on the road, with just you and your two wheels, is a daunting task.  It is even more daunting when your distance starts to stretch into the double digits, as it does for many of you.
There is no denying the dangers of commuting by bike, but in all reality, the dangers of commuting in your four-wheeler are just as high, if not higher.  In an effort to help put your mind at ease, I recorded my commute to work to help encourage you to join the masses that have taken to two wheels for a bike commute.  Just like anything else, the first step out the door is often the hardest, but once you are flying down the streets, it gets a little easier each day.  We have talk about proper gear, and heard a horror story and some friendly advice.  It's time we took that first step together and got on the bike.  Take a look below and join me on my commute.
[vimeo]http://vimeo.com/36837493[/vimeo]
Since this edition of Loving the Commute was done in video fashion, we thought we'd also include a nice little video interview that was done with running legend, Bart Yasso.  Sure he's famous for what he's done on his feet, but he's also an avid commuter and has done some pretty insane endurance cycling feats as well.  Have a look at what Bart has to say about commuting:
[youtube]http://www.youtube.com/watch?v=Xlk35OHB5vc[/youtube]
In next months edition of Loving the Commute, Aaron will be discussing bags and panniers and the loads that are often carried when you commute by bike.  Watch for that one coming in early April.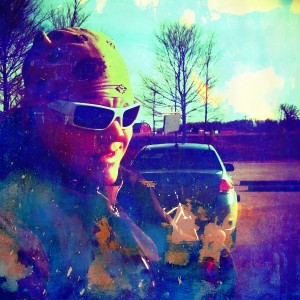 Aaron Madrid lives in Lafayette, Indiana and is a bike lover and cycling commuter.  A lifetime geek he now spends his time with his family or out riding his bike…occasionaly finding time to read comic books and play video games. You can read his previous guest posts on Loving the Bike, including the Loving the Commute series, "A Self Proclaimed Geek Takes on Cycling", and  "#bikeschool: Bike Prices".  Also be sure to find him on Twitter (@Aaronthestrong) or at www.GuerrillaGeek.com.