Loving the Mountain Bike: Shawn McAfee
Are you Loving the Mountain Bike?  You may have noticed a lack of attention towards this type of cycling here at Loving the Bike, and that's simply because I've been on a mtb once in the past year and a half.  When this cycling website first started, I wanted to make sure we talked about all kinds of bikes….but since I'm a road cyclist at heart, the focus always seems to go in that direction.
So today we're bringing you a great post from Shawn McAfee of Texas Mountain Bike Trails, and will be sure to have more mountain bike goodness coming at you in the future as well.  Here's a great read for all of you who are Loving the Mountain Bike, and if you're not….Shawn explains why you should be.
3 Reasons Why I'm Loving The Mountain Bike, and 3 Why You Should Give It A Try
by Shawn McAfee
You come flying down a steep hillside, dodging rocks and trees. Your chain looks like it's suspended in a state of anti-gravity as it bounces back and forth, all while careening into a sharp hairpin turn at full speed. You're caught in a moment where you and your bike become one as the back tire skids sideways through the corner of the turn sending a shower of dirt, mud, and rocks that spray across the side of the trail.
There are hundreds of reasons that I love mountain biking, but far and away the top reason is the rush of adrenaline you get in a moment like that.
You feel invincible, super-human and unstoppable. You feel like you can conquer not only the trail, but also the world.
It's funny how missing a tree by only a few inches while moving at 20mph will do that to you.
I also love being rewarded at the top of a punishing climb with a breathtaking view of a lake or the surrounding land. Just being able to escape the concrete jungle we all live in and returning to nature is incredible.
And then there is the community that surrounds the sport. This is a community of laid-back people just out there looking to enjoy the ride. Sure there are plenty of racers training for events, but even they are pretty low key. A lot of these racers will even pull up a hammock or grill you a burger during their 12 and 24 hour races. No way you can get more laid back than someone taking time out of their race to grill you some grubb.
These reasons I am drawn to mountain biking create a passion inside of me, and not just a little passion, but an incredibly-massive passion that keeps me awake at night.
I spend nearly my whole day talking about mountain biking, writing about mountain biking, and sharing my love of MTB with anyone that will listen. Co-workers at my day job are sick of hearing about it. But they are starting to break down and they all want to join me.
That is the epic thing about passion. Passion is contagious.
And I know that I'm not alone. Just check out a few of the stories about how mountain biking has changed lives and you will see a community of passionate riders just waiting to share their love of the bike.
My hope is that my story alone will make you want to give mountain biking a shot. But as an added bonus, I have three reasons that you should absolutely give mountain biking a chance.
1. Switching up your riding styles and adding in some variety will help you prevent burnout and fatigue from only riding your road bike.
2. Mountain biking improves your core disciplines of bike handling, balance, and reaction time. Improving these things will make you safer and faster when riding as a commuter or as a roadie.
3. Aggressively attacking quick, steep and intense climbs will give you many of the same results as sprint or interval training on a road bike.
Ultimately, what matters most is that you stay focused on what's right about being on a bike overall.
Whether you get out on a road bike, a mountain bike or on a unicycle, you should always be sure to love what you are doing and to keep a smile on your face… unless you're fighting up a hill. Then a grimace or scowl is more than acceptable.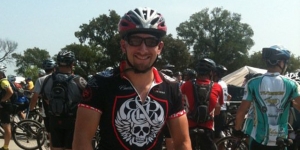 Shawn McAfee helps mountain bikers improve their skills through mental and physical tips, advice, and guides. He is a long time-cyclist, the owner and author of www.TexasMountainBikeTrails.com, and an adrenaline junkie.