Motorized Bicycles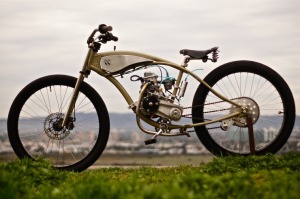 I'm going to say this right now: I feel a little blasphemous writing about motorized bicycles on Loving the Bike. Sorry Darryl, but it's difficult to enjoy every bike ride, especially when you have a laptop in a bag on your back, it's threatening to rain and it's all uphill to the cafe you call your office. I only have a car here every other week, and it's such a car-centric place: no real space for bikes on the road, no place to lock up a bike, sketchy sidewalks, a million stoplights. Not to mention the weather, which is either hot, or hot and raining.
When I first moved here I was often riding the bike around, but that was when my time wasn't as valuable, and I really had nothing else to do. Now I need to meet with people at certain times, or at least have the flexibility to go wherever as I please, and not get sweaty and gross in the meantime.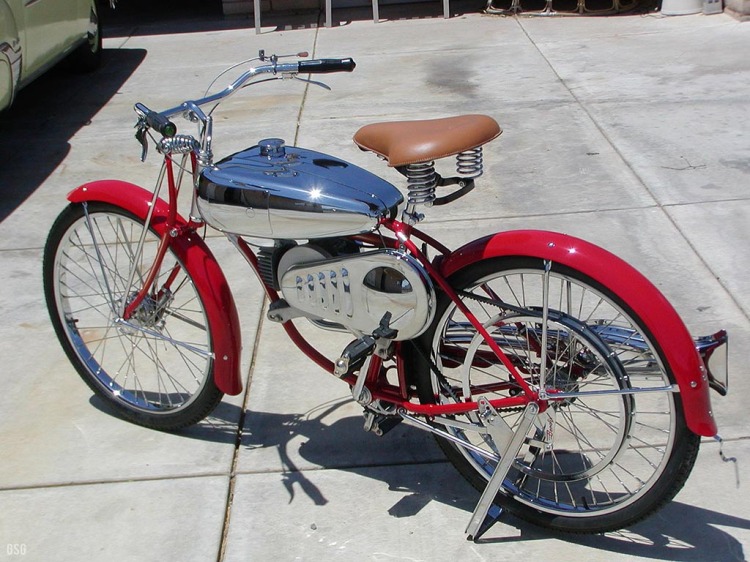 Enter: a motorized bike. I don't have a motorcycle license so I can't buy or rent one of those, but I do have a friend who owns a bike shop and another who's installing a motor on one of his bikes for commuting. The latter is the one that gave me the idea, and every day I've been on the web looking up different motor kits, how to install them, what they're like to ride, etc. A motorized bike is a bicycle, with a motor. It can still be pedal powered, but also has a chain or belt driven system to the rear wheel.
Some of the options are using a 2 cycle or 4 cycle engine. The first is cheaper but needs to have the oil mixed in with the gas, is louder but faster and is started with a clutch system after pedaling. The 4 cycles use a pull motor, like a weed wacker, and are quiet and efficient, but bigger and more expensive.
Another difference is the size of the motor. There's 48/49cc varieties as well as 66 and 80cc ones. The smaller motor is the one I'm after since you don't need a motorcycle license back home to ride it, and is technically considered a moped.
Finally, choosing the bike to use for the build is also important. A mountain bike means you're sitting more upright and have a higher center of gravity. A beach cruiser lets you sit back and lower, as well as just looking cooler.
So, should I build one? I'm working on sourcing a motor here in Penang, and then ordering the rest of the parts from back home. I think I have a bike to use already, and as far as the technical know-how, well, I did used to build cars. Having a motorized bike will solve my problem of being without motorized transport for most of the time. It will give me more freedom to get around without having to depend on my legs, which aren't always up for pedaling, and will allow me to go farther in less time without using much fuel. No more taxis! Plus, I won't get all sweaty and gross from pedaling in the heat.
If you've built one, I definitely want to hear from you, and send me a pic or video!
Note: these things may not be legal in all states. In MA and CT you only need a driving license but need to register them as mopeds. Here in Penang I'm not 100% clear on the rules, but it's very laissez-faire.