Readying for Interstate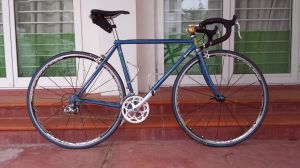 This weekend is the Interstate ride, a three-day, 500km event through areas of mainland Malaysia. The first day we're starting near Kuala Lumpur and riding up Fraser Hill. The second takes us into the Cameron Highlands, and the last day is downhill towards the ocean.
It sells out quickly so you need to jump on registration. Though you can still buy some open slots from last-minute pull-outs, the hotels are almost full already. Interstate, or IS, isn't a race, but I'm imagining some will still see it that way, and unfortunately I've not be preparing well for it.
I feel confident that I'll be able to do most of it due to base miles and reserve power, but I needed to have gotten in more 130+ km rides, and that just didn't happen. What I can control at this point is how well I'm prepared outside of riding, such as my bike, food and supplies.
I sorted my bike out yesterday. Though at 20 lbs it's a bit heavier than my carbon/aluminum bike, I'm bringing my steel Fuji that I've been riding the most. The steel frame will absorb a lot of the road vibrations and smaller bumps, meaning at the end of the ride there's less wear and tear on my body. The geometry is also a bit more relaxed and has a really solid, steady feel, as opposed to my other Fuji which is designed for racing and is super-twitchy and responsive. The preparations for the ride included:
adding a second layer of bar tape
swapping the wheels from the race bike for weight-savings
replacing the brake pads
replacing the headset to negate some play
My next task is to hit up Tesco for food and other nutritional things. We have a couple of vans for my group that will be tailing us, so it'll be easy to grab something out of the cooler or bags. I know from experience that long rides mean bringing real food. Processed food is ok for shorter rides but doesn't sit well after seven, eight hours in the saddle. I'm planning on grabbing 100 plus (the local Gatorade), some less-processed energy bars, Nutella, bread and some salty snack like Goldfish. One of the group is bringing along bananas, and my favorite all-time cycling food is a banana, Nutella sandwich.
The last thing I'll do to prep will be packing the bags and sorting out kits. I'm only going to wear kits that I know are super comfortable on long rides, and bringing along plenty of chamois cream. Sunscreen is another must, but I'm also going to bring along a long sleeve jersey and windvest. The temperatures in the Highlands average in the high-60s to low-70s, and while that sounds perfect for riding, it'll actually feel cold to me since I'm used to 90+ degrees.
I'm looking forward to the ride, if only to see parts of the country I've not yet been to, and to take a cycling holiday with friends. I don't think I'll be able to do it all, but cycling to the top of either Fraser or Cameron will be an achievement.
Do you see anything I'm missing from my planning?
– Ashley