The Jamaica Reggae Ride Back Story
We have posted in the past about the yearly Jamaica Reggae Ride, and are back to give some of the back story on this unique Caribbean event.
The Jamaica Reggae Ride Back Story
by Royston, of Knights of Mobay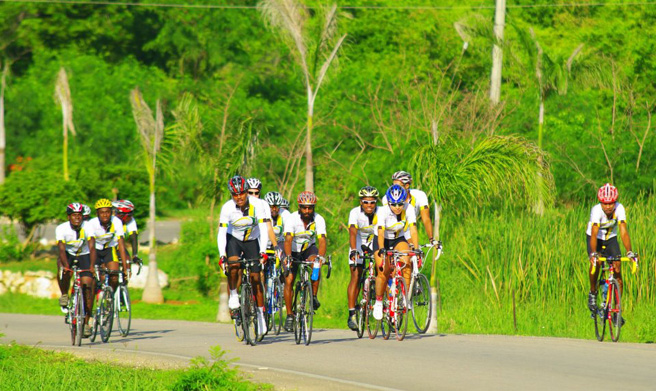 The Jamaica Reggae Ride is five days, covers four cities, and includes three absolutely fantastic days of cycling across the country of Jamaica.  It is a well managed, reasonably paced (and priced) tour where cyclists needs are met from Airport arrival to  Airport  return.  Most visitors to Jamaica typically visit only one city and never get a chance to see the charms of the whole island.  The Jamaica Reggae Ride enables cyclists to visit four towns and experience all the glory and culture in between.
The ride organizer, Jennifer Hilton is passionate about cycling, passionate about Jamaica and passionate about visitors seeing and experiencing the island she loves from the seat of a bike.
Who is Jennifer "Storm" Hilton?.  Jennifer Hilton, a mother and businesswoman who took up cycling in 2007 when osteoarthritis ended her stint as a runner.  Jennifer absolutely fell in love with the sport of cycling and it's evident by her various cycling ventures and challenges. She has cycled across Jamaica, cycled throughout the Caribbean and USA, and on average cycles 250 miles a week. In Jamaica she has criss-crossed the country multiple times both the north and south coast routes and endured 160 mile rides from the southern historic city of Kingston to western tip of Negril. She fell in love with multi-day tours and has twice done the San Francisco to Los Angeles (450+ miles) and the 3-day La Vuelta Puerto Rico ride.
After doing the San Francisco to Los Angeles tour which she thought was so well organized, she had the initiative to organize an event similar to the La Vuelta Puerto Rico on her own island of Jamaica. Storm owns and operate a 29 year old sightseeing tour company, Holiday Services in Jamaica and knew she could pull a cycling tour together — and do it well.   Thus the Jamaica Reggae Ride was born based on her drive and foresight.
Jennifer had the passion, had the infrastructure and her own racing cycling team for support.  She quickly assembled the Jamaican cycling community. The cycling community is small and intimate in Jamaica. It's a social sport where everyone can get together regardless of social status and simply ride.
The Jamaica Reggae Rides is proud to provide a very personalized cycling service .  Once you arrive in Jamaica and picked up by one of the Tour's guides, the only thing you need to be concerned with is enjoying the country and the riding experience. TheTour guides are either pro or ex-pro cyclists who will assist you from the moment you arrive:  setting up your bike, improving your cycling skills, to sharing the vast cultures in Jamaica.  "Our idea is to provide an arrival-to –departure concierge service that is second to none! Safety is our number one priority at all times. No one is every left alone.  We have support vehicles, cycling guides and police on motor bikes throughout the 3 day event. "
So be prepared to be spoiled beyond expectations. Be prepared to feel challenged, to feel  motivated and to feel a sense of accomplishment at the end of each day.  Yes, be prepared to enjoy the culture, hospitality and people of Jamaica – the Tour allows for time to enjoy and experience off the bike.
Experience Jamaica so up close and in person in a way that no typical visitor ever gets to see it. That's our Jamaica Reggae Ride.
Nov 8th – 12th , www.jamaicareggaeride.com
Cycle Jamaica, Feel the passion, We are more than a Beach, We are a country!