Tulsa Tough Cycling Race and Grand Fondo
I'm all about helping and supporting the cycling community any way I can…so when the crew from Tulsa Tough asked about promoting their event through our site….we said we'd spread the word.  We have a lot of followers from the Austin area (man, have I mentioned how much I miss that place?)…so check out the information and register for some bikey fun happening June 8 and 9.
Tulsa Tough
by Tulsa Tough Event Director, Malcolm McCollam

Why Gran Fondos? Why Tulsa?
I once heard a commentator describing the difference between the Spanish cities of Barcelona and Madrid. He said Barcelona was like a super‑model and Madrid was like the girl next door. The super‑model is beautiful but ‑ let's be real ‑ unattainable for all but a select few. The girl next door can also possess great beauty and – thankfully – is down to earth and attainable.
Look at a list of some of the world's great gran fondos: the Maratona dies Dolimites in Italy, the Tour of Flanders in Belgium, and the Etape du Tour in the French Alps. Wouldn't you love to ride in one of those? As much as we may have visions of riding our bicycles in these dreamy locales they can be ‑ like the super‑model ‑ unattainable for all but a select few. The Saint Francis Tulsa Tough Gran Fondo is the girl next door: attainable for all of us. Here's why.
Proximity
If you live in Austin, Dallas or Fort Worth in Texas, St. Louis or Kansas City in Missouri, or Wichita in Kansas, you are only four to seven hours away from Tulsa by car. Even if you travel by air from the East or West coasts or places in between, the travel and logistics are uncomplicated. Tulsa International Airport is 15 minutes from an array of downtown hotels. And once you get downtown, all events take place within a about a two mile radius of your lodging and you are able to walk or ride your bike anywhere.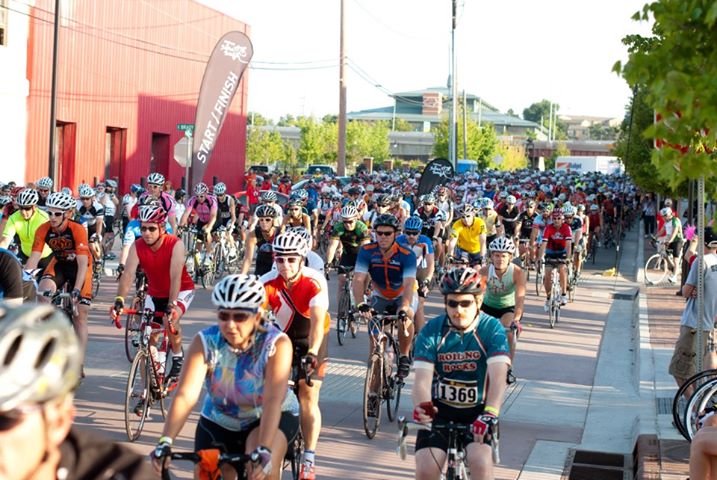 Route Variety and Challenges
Only Tulsa offers two days of Gran Fondos back-to-back. Five distances are available on Saturday and three on Sunday ranging from 27 to 127 miles, with 100+ mile rides available both days. The variety of terrain in NE Oklahoma will challenge those on the longer routes with 4,000+ feet of climbing. The shorter routes, while not flat, are within reach of the rest of us.
A Bargain
We're not naming names here, but seriously, have you seen the entry fees at some events around the country? Two and three hundred dollars for a single day of riding? And hotels starting at $200 a night? In Tulsa, you can ride both days for $100 and get lodging at or under $100.
Bennies
With your Gran Fondo entry you'll get a great schwag bag packed with things you'll really use and not throw away – like waterproof cell phone pouches, sun screen and energy bars. You'll also get the annual Saint Francis Tulsa Tough official event t-shirt – a shirt you'll actually want to wear and not use as a bicycle grease rag. You'll have chip timing with King of the Mountain and other challenges. You'll be treated like a rock star by the rest stop volunteers. And once you arrive at the finish, you'll get a full meal including adult beverages should you so desire.
Come for the Rides. Stay for the Parties
While the rides are great, they are just the beginning of your Tulsa Gran Fondo experience. The celbrazione begins when your ride finishes in Tulsa=s downtown arts and entertainment venues with crowds and an energy you likely never knew existed outside of Europe. The amateur and professional racing action is some of the best you'll ever see up close and personal. And capping off the experience on Sunday is Tulsa's own Cry Baby Hill on Sunday. Cry Baby Hill cannot be explained. So I won't. If you need a preview, watch below:
[youtuber vimeo='http://vimeo.com/43947788′]
Tulsa Loves the Ladies
Tulsa is home to the Saint Francis Tulsa Tough Divas, a group of women of all abilities who gather to be active, share experiences and socialize. Oh yeah, they also ride bicycles. You don=t have to live in Tulsa to be a Diva. Women around the country have joined. Go to www.tulsatough.com and click the Be A Diva link. You'll get a cool Saint Francis Tulsa Tough Diva t-shirt and jersey for starters. You know you want one, so just do it. Besides, the very word diva derives from the Italian word of the same spelling meaning A female deity.  Come on . . . who wouldn't want to be one of those? And by the way, no boys allowed.
Once you get here, you'll be glad you did. You'll come back. You'll tell your friends about it. And we'll all have a blast together.