Look Who's Loving the Bike: March 2011

At the top of each month we like to feature the amazing stories and memories of people who are loving the bike.  Please take a look at what our March 2011 lovers have to say. Hey…..and we'd love to hear from you as well….feel free to submit your "Look Who's Loving the Bike" story to us at any time.
Richard Brock – Orange County, CA
"The freedom of riding alone for the first time around our very long block, playing bicycle polo in the yard, riding downtown with my older brother, working for Western Union as a bicycle delivery boy, making the first revolution on a stationary bike after major knee surgery (that took 2 months of therapy to achieve) and now, riding with injured veterans with the (www.ride2recovery.com) group."
Rick Kehs – Philadelphia, PA
"My first riding experience was on an old bike, peddle brake, one gear with 20" wheels. I was 12 years old and decided to ride 12 miles, 24 round trip, to a previous home. It was a big adventure for a 12 year old. I'm not sure that was a deciding factor in my later riding escapades. My younger years on bike taught me a lot of things not to do, like riding with my eyes closed. I made it all the way to the first parked car. Riding down steep hills without breaks and running into the brush and pickers to stop. Riding down a hill through a cow pasture and running into an electric fence. I have no idea why I'm still alive.
Somewhere in my mid 20's I bought a Sears 3 speed and started riding again. After a year on that bike I tried a friends 10 speed and within that week I bought one for myself. I have been riding every year ever since, going on 36 years and six bikes now. For a few years I rode every day of the week as long as it wasn't freezing out. I was putting on 5 to 6 thousand miles a year. My job in construction at the time made this possible. My best and fastest trip was 180 miles in 7 hours from Telford, PA to Ocean City, MD. Now even though I'm a little older I still found it necessary to push my luck by drafting trucks on the highway. Yes, I watched Breaking Away and had to try it, quite often too. Very exhilarating not to mention dangerous.
I've broken the frame on every bike I rode, snapped many chains, spokes, an axle, a handle bar, a cog (very painful) and a peddle arm. Even managed to pulverize wheel bearings. I've run into the side of 5 cars and one telephone pole. Once managed to get my front wheel turned sideways and went flying over the handle bars. Each of these has it's own story."
Mark Griffiths – Reading, UK
"Been riding a bike since I could walk, now a massive road enthusiast been to follow Tour De France last 3 years running. However I think my strongest memories are mountain bike riding with my brother in Utah & Colorado,him taking me on Slick Rock for the first time on clipless cleats, still have the scars now.
I Just love getting out on the open road and being free and churning up some big gears and miles did almost 4000 miles in 2010! Keep pushing those gears."
Aimee Wilson – Philadelphia, PA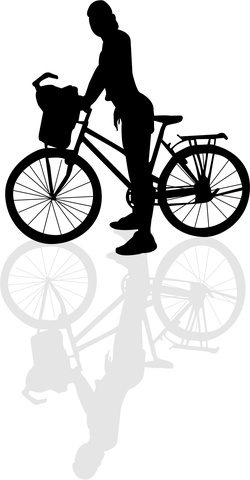 "Learning to ride a bike was a right of passage in my small suburban Philadelphia neighborhood. I was actually one of the last one of my friends to learn how to ride. I have lots of memories struggling to learn – not that bike riding was difficult but riding in the street with cars around was the scary part. My oldest brother taught me to ride and I used to jump off my bike and into the grass whenever he yelled 'Get to the side of the road. A car's coming' – LOL!
Some of my best adventures as a child happened on a bike. Some of my most meaningful lessons as an adult occurred on a bike as well."
Brad Didier – Huntsville, TX
"I have always been a weight room guy, playing football and baseball my entire life. I meet my incredible wife and she introduced me to endurance sports and biking. I had no idea that you could challenge yourself so much on a bike. Since we have been together we have competed in 3 sprint distance tri's and a number of 5k's. I'm loving the bike. Something else she introduced me to was the Lance Armstrong Foundation. In 1989 I lost my oldest sister to a brain tumor.
Until now I had no idea how I could give back or make a difference in her name. Its funny how life all comes together sometimes. I love biking with a purpose today. I have a road bike and a mountain bike and I am on one of them almost everday. I took the liveSTRONG challenge the last 2 years and rode 65 miles in honor of those fighting the fight and the ones who are not here to fight anymore. It's so awesome to live with purpose and who knew the bike would mean so much to me today. I will continue to ride and raise money for all those effected!!!!"