Look Who's Loving the Bike: May 2012

Here's a look at who's loving the bike for May 2012.  At the top of each month we like to feature the amazing stories and memories of people who are loving the bike.  Please take a look at what these lovers have to say.  Hey…..and we'd love to hear from you as well….feel free to submit your "Look Who's Loving the Bike" story to us at any time.
Heather Hughes – Munroe Falls, OH
"My love for cycling started as love for a boy.
In 2009, I fell in love with a cyclist. In order to shift his attention from his bike to me, I had to do something drastic. Even though I had not been on a bike for at least 10 years, I bought a Trek mountain bike during spring break. I spent that week learning how to not look awkward and miserable, on top of learning how to properly shift without dropping my chain (this took a few attempts).
Upon returning to campus, I showed my crush my new set of wheels. He was impressed with my choice and then asked if I wanted to go for a short ride. I agreed, not knowing what I was really getting into. After flying down some massive hills and returning to my single dorm room muddy and sore, I knew I was hooked. Not just to this guy, but to the bike.
I wanted to ride more and learn more, so I kept asking my crush questions. Apparently, my genuine interest for all things cycling showed him that I was a girl he wanted. We began dating and soon after we became a couple, he surprised me and bought me a used road bike. It was a 2002 yellow Trek WSD in the perfect size. That was when I became a true roadie and ditched (for the most part, anyway) those dangerous, muddy trails. 
Three years later, we are happily married and we now live in a small apartment with five (yes, five) beautiful bikes. We live and breathe cycling. Who knew that something so simple (and yet so complex) as a bicycle would bring two people together?"
Ric Zapanta – Phillipines
"I will be 48 years old this year.  Five years ago, working in Indonesia, I began to notice how I always stared at people on bikes.  Commuters, hobbyists, riders, weekend warriors, all sorts.  I often find myself inside bike shops just looking at how different bikes are now from what they were years back.  I still have a 20 year old rigid mt bike that is always polished.  I get to ride it 2x in a moth the most. I started looking for old bikes and get them cleaned up, painted and polished.  I am on my 6th bike project now. Why I just love to spend time on / with them I realized later was… 
I grew up in an area with very few kids around, why because there aren't that many houses too.  I spent summer vacations loafing around from one corner to another inside our house grounds and the open fields outside. What I see limits me to 20-30 min walk.  At age 10 I got my first red bike. Suddenly the world became huge. I take rides to all directions, sometimes spending whole days on my on with my red bike.  With my bike everything moved closer to our house.  I memorized every street in our city.  In my last 2 years of university, I am the only guy on a bike not really to save on time and money but I just love the feel of warm air on my face and the grip on my palms.  20 years later my first love was rekindled.  I thank God for things good and bad.  I thank Him for bikes… which certainly is a good thing."
Carl Perpich – Bonaire, Dutch Caribbean
"I raced bmx redline bicycles when I was a kid.  A neighbor owned a bike shop and had two kids my age. Then I started racing road biles in 1986  and when I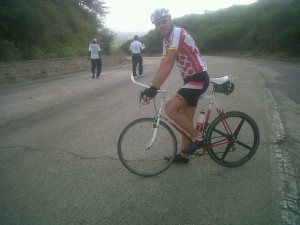 went to college I bought a friends Colnogo with Campy super record.   I did lots of local races in Texas and criteriums in Ft. Worth.  I got hooked up with a bike shop in Arlington , TX called Bike Mart (they used to be a part of the slightly more notable Richardson Bike Mart), but had split off .  Because I had no car starting in 1988 my mode of transport was solely my bicycle.
I was riding about 18 miles one way to work 5 days a week and 2 days a week I rode 35 miles one way to chef school.  So I had a good 350 mile a week workout not including the real rides.  I found the longs rides really cleared my head and thoughts and I could organize things to be done.   This is when I realized ultra marathon cycling suited me.  I soon got sponsorship from the bike shop which was a schwinn dealer and we had 2 custom prologue bike frames made for me out of Waterford, WI.  By now I was cycling 700 to 900 miles a week during the 9 months of good Texas weather.  And the regular commute of 350 the other months.  Some of the UMCA races I competed include the RAAM Open West (Tucson, AZ to Flagstaff and back to Tucson) about 450 miles with over 16,000 vertical feet of climbing, I believe that was '89.  Then RAAM OPEN Mid-West in Illinois which was flatter, but 600 miles in '90 and a RAAM failed attempt.  I then tried to re-qualify in Ohio the next year in RAAM Open Ohio, Columbus.  After that my chef career needed lots of attention to grow my portfolio so I was reduced to just fun races that we would ride to, then race and ride home.  Somewhere in there I got a car as well so it changes my cycling dynamic in 1991."
Carl is a Texan who now owns and runs the coolest beach bar and grill that Bonaire has to offer.  Check out www.paradisebonaire.com and be sure to stop in if you're ever on this beautiful Dutch island.