Beach Therapy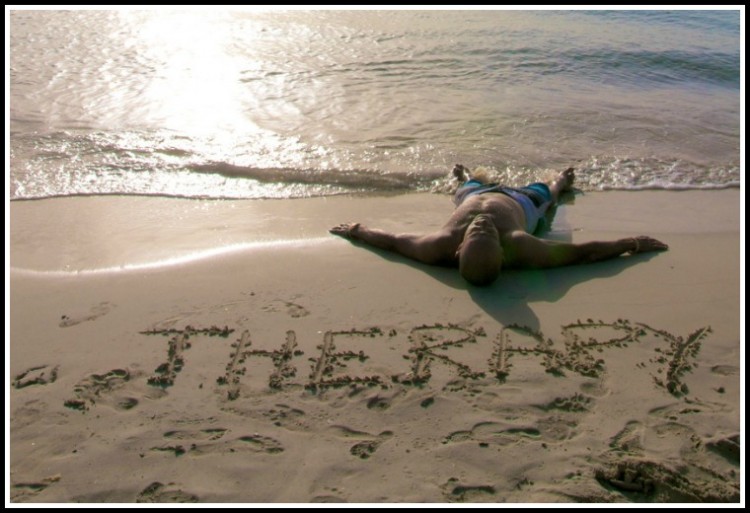 There's no therapy like Beach Therapy…..yeah, that coming from a guy who grew up in the land locked province of Saskatchewan.
I've always had the ocean in my soul and absolutely believe in living with the sand beneath my toes, but for most of my life I've lived outside of this reality.  But now that we're once again living in the Caribbean, there's no denying that the beach and all of its glory provides me with much needed therapy time and time again.
In last week's post entitled "Let's Talk About the Release", I mentioned how the beach is the one spot that always makes me feel better.  But there's more that needs to be said on the subject.
No matter what it is that's stressing me out or making me feel down, a little time at the beach provides my release and escape from it all.  Feeling the sun scorching my body, watching the majestic rippling of the waves as they dance on the shoreline, and being surrounded by the whole supporting cast of the beach is enough to peel off even the thickest layers of negativity and junk.
The beach is my sanctuary.  It's where Darryl Kotyk and Mother Nature become one.  I really don't know where I would be without it.
Lately, its honestly been the only place where I'm the person I am meant to be.  The one place where my soul is happy.
Yeah, I know what you're thinking.  Isn't the bike your therapy?  The answer for me is Yes…..and No.  It's always been a place that can put me in a zen-like state, and it's been an incredible source of therapy over the years as well.  But at this moment in my life, the local conditions do not consistently allow for me to experience this on my bike.  Remember, I feel like I've been eaten up here in Grenada.  I think buying a new bike would be good therapy as well, and believe me…I'm working on it.
I may not have any of those fantastic country back roads to clear my head when I ride, but lucky for me I'm on a small island surrounded by plenty of ocean and beach.
If you need some beach therapy, you're welcome to come visit me in Grenada anytime…and we'll add in some cycling therapy as well.  Or maybe city life is more your type of therapy.  Going to New York for your bike holiday?  Then book your cheap flights to New York via Dealchecker!
Where's your guaranteed feel-good therapy spot?  Find it, use it, and it will help you Make it Happen.