My Definition of Success
What is your personal definition of success…….both for cycling and life?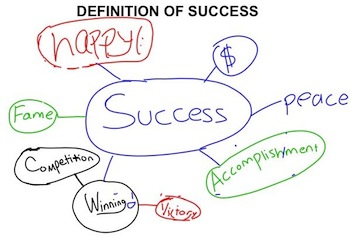 If you don't have a personal definition I greatly suggest you getting one.  By knowing exactly what it takes for you to consider your life a success, you need to have a way to measure or determine it.
It all comes down to core values in my opinion.  If you know what key ingredients go into making you feel successful then you'll know what goes into your own personal definition.
Because cycling is such a huge part of my life, it most definitely is a part of my definition of success.  If I'm able to ride outside, year round, in a warm climate at least 4 or 5 times each week, then one of my core values has been met.  If I'm able to continually improve my performance and become a stronger cyclist each year, then the cycling portion of my life is a complete success.
But my definition of success goes farther.  I won't get into all the details, but another of my core values is to live each day with nothing more than a t-shirt, shorts, and sandals.  I've done all I can to make this one happen, and I honestly cannot remember the last time I had to detour from this core value.  The only shoes I wear are my cycling shoes….some days I wear no shoes or sandals at all.
Because I used to work from home and now that I do leave home to work, I take my bike.  There are some weeks that I don't spend any time in the car…..and to me, that is one incredible feeling.  This is most definitely another sentence in my definition of success.
One of my favorite definitions of success is from musician, Bob Dylan:

I think his words quite easily sum up all that goes into my own personal definition.
So how about you?  What key ingredients go into your own personal definition of success?  Create it, and then make it happen.