Wanted: A Life of Bikes and Family Time
I've said it before, and I'll say it again.  There are really only two things that matter to me and that is Family and Bikes….the rest is just stuff.  But I'm not sure if people realize how serious I am about this.  It sounds like a pretty simple thing to achieve, but I'm finding the search a little tougher than you would think.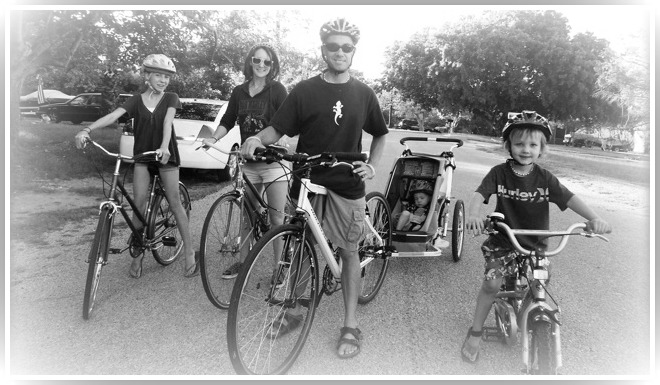 You see, there are a few more factors that go into making this life of Family and Bikes work the way I anticipate.  I'm very much a cold weather wimp so I need to be located in a place where I can comfortably ride year round and terrain flat and safe enough for my Wife and Kids to ride as well.  So a place like the Netherlands would definitely provide the bikey culture and infrastructure for us to be a Family that lives on our bikes…but there is no way I could take the winter conditions.  Not only that, but being Canadians we can't just walk into any country and stay there indefinitely.
Yeah, the immigration and residency issues are definitely the toughest part of fulfilling this goal of mine.  I'd still like to slap the Canadian politicians who didn't seal the deal back when Canada was looking to buy Turks and Caicos.  And I'd like to slap them again for not buying Barbados when they were looking into it as well.  If one of those deals would have went through, there is no doubt in my mind that I'd be living there right now…riding bikes and enjoying life with my Family.
Once you get through the issues of relocating to a new country, there's the issue of finding a way to make money.  This part of the puzzle is actually not as complex for me as the immigration deal is…but still one to think about.  Ideally, I'd love to find the location which is cheap enough to live in that we can live comfortably off my internet based income and not have to worry about making any local money.  Otherwise, starting up a cool local business that allows my Family to all work at it together would be a nice little option as well.
Okay, so I'm a Canadian living here in Austin, Texas….pretty dang close to my ideal scenario.  But living on a work permit that allows me only one more year in the Country is reason enough to find something different.  Add to it that the infrastructure in the area we currently live is not at all conducive to any real bike commuting for my Family.  There is the option of moving to a different area of the city that would be more bike friendly, and to find a company who's willing to go after a green card.  But I'm not interested in working for "the man" and without doing that, a green card is not really available (unless I have a cool Million dollars to invest into a business).
So there you have it.  The Loving the Bike Family will be on the move soon and have been working on it for much longer than I desire.  There has been hints, tweets, and rumors floating around….and the big picture will be revealed soon.  But one thing is for sure…..creating a life around the Bike and my Family is not as easy as it should be.
It might have taken me more words to say this than it should, but what I'm trying to say is that nothing is impossible.  If you have your mind set on what you want to achieve, keep focused on it….and it will happen.  Big Dreams, baby….believe in them.
If anyone has suggestions or ideas on where to find the ideal location I'm looking for….I'm all ears.