You Don't Know What I'm Going Through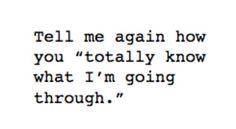 We walk through our lives crossing paths with random people, taking them in, and often making opinions and judgments on what we see.
We laugh, scoff, shake our heads….and worse.  Yeah, I'm guilty of this all too often.
But have you ever found yourself on the other end of the story?
Most of the time, the actions of another are due to what is happening in their life.  There is always more to the situation and there is no way we have the authority to base opinions on only what we see.  There is always more to the story.
As we roll through this #MakeitHappen Monday, be aware of this fact as people weave themselves into your day.  You don't know what they are going through.