Greatest Cyclist of All Time
It's a loaded question, but who do you feel is the Greatest Cyclist of All Time…and why?  Labelling someone the Greatest was not something I was willing to do on my own, so I left this one up to a panel of expert judges to do it for me.  Here's a look at who was involved, and what they came up with.
The Panel
The panel we used to determine who would be called the Greatest of All Time included cycling celebrities, #bikeschool classmates, and other bike lovers.  The cycling celebrities featured the likes of pro rider and Boo Bicycles owner, Nick Frey, cycling celebrity Ryan van Duzer, some of my amateur and semi-pro racing friends, as well as couple kings of the cycling blog world: Fat Cyclist and Wade from Cycling Tips.
In total, we took the responses of our panel made up of 100 cycling fanatics and the results were quite interesting.  When each of these people were asked who they felt was the greatest cyclist of all time, not once did we mention that it had to be a pro cyclist…..but it's funny how the majority of responders included one as their reply.
Okay, so here is the top 5 Greatest Cyclists of All Time as selected by our panel.  We've also included a few of the responses as to why certain cyclists were selected, so be sure to check out the quotes and comments below.
Top 5 Cyclists of All Time:
5.  Cadel Evans
4.  Danny MacAskill
3. Fausto Coppi
2.  Lance Armstrong
1. Eddy Merckx
This is obviously an interesting list and the reasons why people selected who they did is even more interesting.
"Lance might be the best Tour de France champion of all time, but the greatest cyclist has got to be Eddy Merckx.  No question."

– Victor from @bicyclelab
"I never saw Merckx race in his day and only saw a bit of footage and read a lot. I never really connected with him (even though I was lucky enough to have lunch with him a few years back where I heard many of the stories from his own mouth!"

– Wade from Cycling Tips
I loved this response from the king of cycling comedy:
"I am the greatest cyclist of all time. Have Lance or Eddy ever finished an Ironman? Or the LT100 on a SS?  Have either ever podiumed at the Tour de Donut? Have either of them won a Bloggie?  I, on the other hand, have done ALL these things. While working a day job, mind you."

– Elden from Fat Cyclist
"A great cyclist to me is someone who entertains and does something I would call amazing.  Danny MacAskill is all that and more, that guy can do anything on a bike."

– Jason M
"Lance, because he won the tdf seven years in a row.  He's the most wonderful cyclist to step foot on the planet.  He's the master of the sport, he brought cycling where it is today."

– Ireland's up and coming cycling star, Ian Redmond
"Although he is not my favorite rider, and far from exciting under most circumstances, I would have to say Cadel Evans is the greatest all-around rider in the last decade.  He's proven on the mountain bike, the road bike, and the TT bike, and he can climb, sprint, TT, ride classics, go in breaks, descend, and fight for the overall without the help of a team.  He's good throughout the entire year, and has an unbreakable spirit.

I know he's only won the tour once, but if you look back at the last 10 years, he's been fighting and improving the entire time."

– Nick Frey
"My nomination for the greatest ever cyclist is Bernard Hinault.  Known as 'The Badger' due to his fighting style when cornered, Hinault was a complete rider who could climb, sprint, and time trial with the best and it would have been great to see Hinault go up against Eddy Merckx when both riders were in their prime."

– Our own, @steviedexter
I think our panel of cycling experts came up with an interesting list of Greatest Cyclists of All Time, and I also wanted to share with you a graphic that lists the top cyclists as determined by points in One Day races and Grand Tours.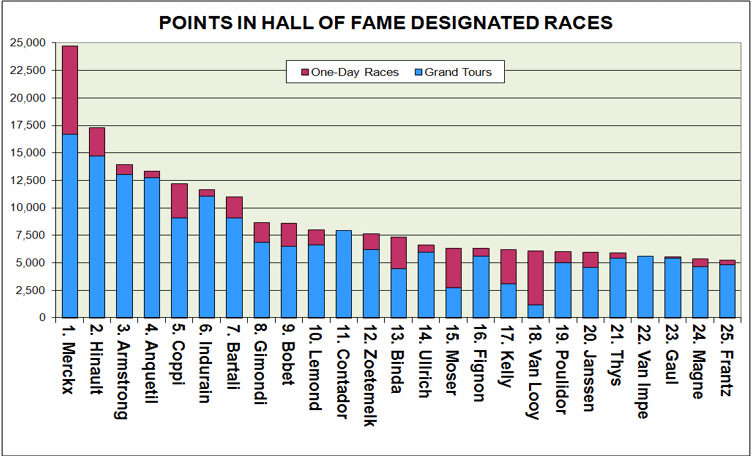 Who do you think is the Greatest:  How did our expert panel of judges do?  Did they come up with the Greatest Cyclists of All Time?  Leave your comments and let us know who you think is the greatest….and why.
Photos c/o France-Cyclisme, Danny MacAskill, and Cycling Hall of Fame.  Graphic c/o Cycling Hall of Fame
Reminder: Order Your Loving the Bike Kit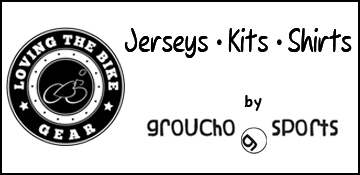 Order your Loving the Bike Jersey or T-shirt now so you can be out there looking good on the bike this Spring.  Head over to Groucho Sports and get yours now.  Jerseys starting at $54.95.
We thank you in advance for your support.