Contest Time: Do You Wear Road ID?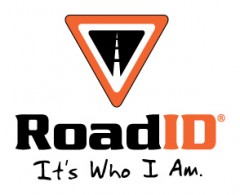 Friday May 13 Update: Thanks to everyone who entered our Road ID contest, and thanks to Outside PR and Road ID for helping us out with this.  A great big

Congratulations goes out to Roy Smalley

who is the lucky winner of a Road ID jersey and ID.
Prior to getting myself a Road ID a couple months ago, I used to keep a crinkled up piece of paper folded up inside a ziplock bag and would stuff it in my jersey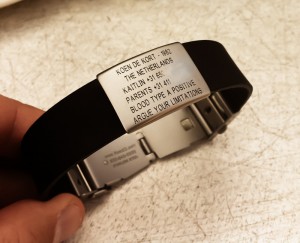 pouch when I went out riding.  On that paper was the contact information for my wife in case something happened to me while out riding and it would allow for emergency people to get a hold of her.
My method was effective, but certainly nowhere near as cool or effective as what Road ID has going on.  First of all, Road ID offers wristband, shoe, and dog tag options so that you're guaranteed not to head off for a ride without your ID.  Secondly, it allows you to provide the contact information for a few different people so that the odds of getting a hold of someone in an emergency is possible.
Road ID was born out of my father's concern for me as I trained for my first marathon. We quickly realized that, in an accident, Road ID saves crucial, life threatening minutes when you can't speak for yourself.

– Mike Wimmer, Owner of Road ID (along with Edward Wimmer)
Odds are that your spouse, parents, or anyone else close to you isn't going to like you talking about getting a Road ID because they won't want to think of it ever needing to be used.
But it works, and my friend Torsten is living proof.  Last September he had a serious wreck on his bike and his Road ID helped the EMT's contact his Family. Torsten luckily came out of it okay and continues to ride….and definitely continues to wear his Road ID.  Read more about his story right here.
Contest Details:
We have a Road ID Jersey and an e-card to give away, and there are three ways to enter.  You are in to win for each of the options, so do all three and you've just tripled your odds of winning this great prize from Road ID.
If you currently wear a Road ID, let us know why you wear one…..so you'll have a second one to give away to a friend.  If you don't wear one, let us know why you wish to do so.
"Like" the Road ID Facebook Fanpage.  You can do so at www.facebook.com/RoadID.
"Follow" RoadID on Twitter.  Their Twitter ID is @RoadID.
Use the comment section below as your entry form.  When you "Like" or "Follow" Road ID, let us know with one comment for each…..as well as a comment for your Road ID Story.
We'll take your comments now through this Friday at Noon, EST.  Winner will be announced Friday afternoon.