Primal Wear Allowed Me to Ride With Bob Marley
If you know me, you know there is a little piece of the great Bob Marley living inside this cycling body of mine.  I've talked about Bob many times, and even went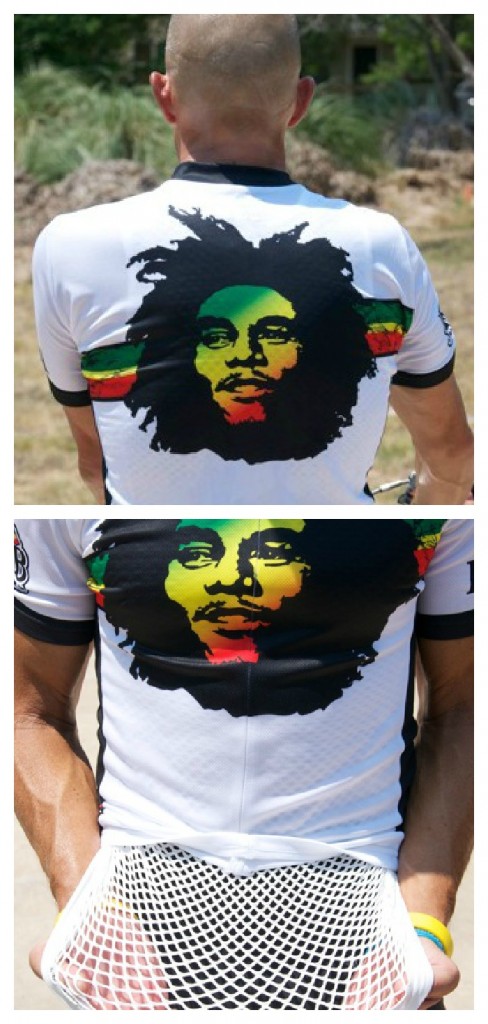 on a search to see if Bob Marley rode a bike.  My road bike is named after him, and this website even shares the anniversary of his birth.  Yeah, I'm just a little obsessed with Bob Marley.
So when Primal Wear sent me a Bob Marley cycling jersey, you just had to know I was going to like it no matter how it looked or felt.  But now that I have it, I can honestly say that even if Bob wasn't plastered across the front and back, it would still be one of my favorite jersey's ever.  It fits great, looks awesome, and seems to be put together exceptionally well.  Up until receiving this jersey, I had heard of Primal a few times but never paid them much attention.  They definitely have it now.
They have a few different Marley jerseys to choose from and I would personally like each and every one of them.  If you're not a wannabe Rasta man like me, then Primal has other "rock band" inspired jerseys for you, as well as Military and Brewing themed ones that might match with what you're into.
Along with the jersey, Primal Wear sent me a sleeveless base layer (A moisture wicking base layer with stretch properties is a One Size Fits All layer that allows optimal airflow to the surface of the skin).
The idea is to wear this under your jersey to help keep you cool and sweat free.  Seeing as I got to try this base layer out during the sweltering summer season in Texas, I was able to see how it performs in 100+ degree weather.  I can see how the design helps the air flow through your jersey, and if you don't like it when your jersey sticks to you on a hot summer day….you just might want to try one of these for yourself.
Primal wear not only provided me with what is now one of my favorite riding jerseys, but they allowed me the chance to ride with Bob Marley.  Well, at least pretty darn close to it.