Showers Pass and Nutcase Un-Review
How do you write a review when you like a product, but haven't actually tried it out for yourself?  Well, I've had a couple items around here that I just haven't been able to put a review together for….because I haven't personally used them.
So here it goes….my un-review.
Nutcase Bell
I love the Nutcase brand and think they have cool products and a great company vibe.  They sent me a couple bells to check out and although I'm not overly into bells….they look nice.  I talk more about them in the short video below.  But for now, let's say that my Son and Wife are sporting some very cool new bells on their bikes.
Showers Pass
Okay, so I wasn't sure what I was in store for when I agreed to have something sent to me from Showers Pass.  I hadn't heard of them before and definitely wasn't familiar with their products.  This company makes wind and waterproof cycling gear and also do accessories and hydration.
They sent me one of their hydration packs to try out, but I haven't been able to bring myself to setting it up and taking it on a ride.  I guess I'm just old fashioned in this way and am totally fine with water bottles.  I don't use hydration packs that strap on like a backpack and I haven't had the need for what Showers Pass has to offer.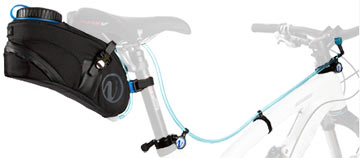 But with that said, I think what they sell is very cool and functional.  So if you're into alternative methods of taking water with you on the ride, be sure to consider these guys.
[youtuber youtube='http://www.youtube.com/watch?v=XsG_vSUDws0′]
Update: The Review
After posting this un-review, the companies involved asked if I could give the products a try so that my comments from using them could be included.  So here it is…..no un this time around.
Since I gave one of the Nutcase bells to my Son, I figured he should be the one letting you know what it's like.  Here is what Indie has to say about his Nutcase smiley face bicycle bell:
"My Nutcase bell is really cool.  It's easy to use.  It has a smiley face on it, so it makes me happy.  I use it when I pass someone on my bike, or when I'm just having fun."
As I mentioned in the video, the Showers Pass hydration pack isn't something I would generally use….but I gave it a try anyway.  I've always just relied on using water bottles instead of hydration backpacks or anything else but here's my thoughts.
If you're going to use a hydration backpack, I think you should consider the Showers Pass VelEau.  I say that because anytime you can keep your body feeling light on the bike is a good thing.  I didn't find reaching for the bite valve any easier than reaching for a water bottle, but that just be my experience.  But the system is pretty slick and definitely a cool product for those who are able to appreciate the benefits they have to offer.