Wiggle: UK's #1 Online Cycle Shop Takes on the World
Whether you're into online shopping or not, odds are you've heard of this explosive company out of the UK called…Wiggle.  In the past 10 years they have officially become the United Kingdom's top online cycling shop and are on their way to being the number 1 online cycling retailer in the World.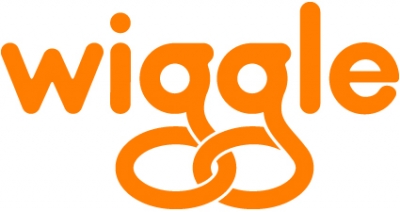 The crew over at Wiggle are self-proclaimed 'bike nuts' and from the contact I've had with them, I can honestly say that they have great style and awesome customer service.  I actually first heard about Wiggle in a post by my man Wade over at Cycling Tips when he interviewed their CEO.  Wade is generally on top of all things cycling so I knew that this was a company to look out for.
So when I received an e-mail from one of their marketing guys about doing a review on some of their products, I jumped right on it.  Wiggle sells everything from bikes and accessories to clothing and components…and everything in between.  Unfortunately they didn't send me over a new bike to review, but what they did send over was still very impressive and appreciated.
Although these reviews are on the products sent, what really should be reviewed in this post is the use of Wiggle for online shopping.  In my opinion they are doing things right and I would definitely recommend them if you're buying online.
Oh, and be sure to scroll to the bottom of this post to find out about your chance to get a free pair of dhb R2.C cycling shoes.  This one is going to have a limited audience for entry, and I explain more down below.
 dhb Chevron Air jersey
About a year ago I had a pretty dismal collection of jerseys, but have since then collected a bunch and shared my opinion of them along the way.  The dhb Chevron Air jersey doesn't have any fancy graphics or things like that, but delivers a comfortable fit and plenty of breathing features for those hot weather rides.
The Chevron Air design parameters were simple – visual impact and ultimate performance. Fabric selections were key to achieving the finished result. A combination of moisture management, temperature control and an unparalleled feeling of speed.
What I Like Best: When I first put the jersey on, I reached back to put a few things in my pockets and originally thought it was missing a middle one.  That wouldn't have impressed me.  But after taking a closer look I saw that the middle pocket actually has a flapped pocket and allows you to put in items that might be bigger than the regular stuff that can fit in there….and also have it secured in by the upper extended flap.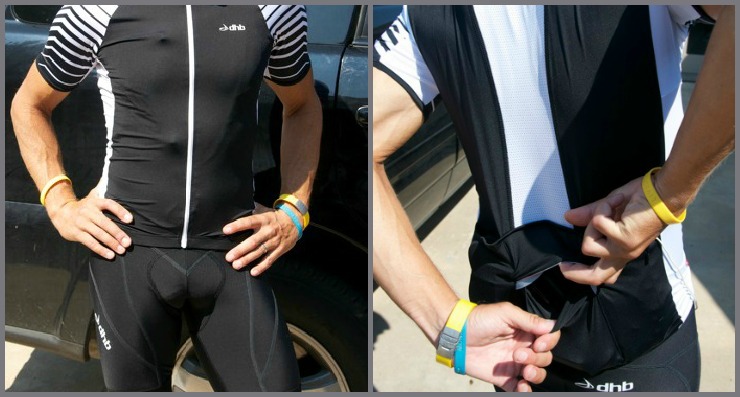 dhb Aeron Pro Bib Shorts
Would you believe that I never owned a regular pair of bibs until these were sent to me?  I have a pair of knicker length bibs, but only wear those on the chilly winter rides so they haven't been used all that much.  I know there are a lot of riders who swear by bibs and won't wear anything but…..and now I kind of see why.
I really have no issues with regular bike shorts, but the more I wear these dhb Aeron bib the more I love them.  I sure hope I don't get too spoiled because most of my shorts are still of the non-bib variety and will need to keep wearing them each week.
The main body fabric is 'Field Sensor' which not only offers the highest compression in the dhb range but also manages perspiration to keep the rider as dry as possible when working hard.
What I Like Best: Other than the fact that these bibs are extremely comfortable, I really like the way the lower part fits above the knee.  They define it as a "wide leg elastic with silicone particle gripper" and it really does snug up very nicely.
dhb Socks
The socks that were sent to me were another first.  Up until getting these ones, I've always worn low cut cycling socks and brought up the discussion on low vs high cut socks in this recent "Let's Talk" post.
The dhb socks fit nice and are comfortable and all….but I am more of a low cut kind of guy.  The funny thing is that at 8cm, these are their low cut variety and actually have a 14cm for the high rise fanatics out there.
A number of technical features make these high quality socks a very sound purchase. COOLMAX yarn manages moisture, transferring it to the outside so it can be evaporated. A soft lycra welt top cuff is smooth and comfortable against your ankle.
What I Like Best: Putting aside my preference for low cut socks, these ones from dhb are definitely lightweight and comfy….especially on these hot sumer days in Austin.
dhb R2C Shoes
All of the items sent to me by Wiggle were great, but it was the dhb R2C shoes that I was most looking forward to trying out….who doesn't love a great new pair of cycling shoes?  But there was a mix up in the sizing (they use the UK measurements on these) so the pair I first received were a little to big for me to use.  But like I said, the guys over at Wiggle are awesome and they quickly corrected this by sending me off the right ones.
The pair of cycling shoes I've been using prior to these dhb's arriving have been working great for me, but one can never have too many pairs of cycling shoes.  The dhb R2C shoes fit great, are super lightweight, and look stylish…but were not able to knock out my other pair as being my favorite.
The Carbon Fibre composite (found on the dhb R2C shoe) has a phenomenal inherent stiffness to weight ratio, which means a relatively small amount of material can be used to create the ultimate power transfer platform. The 3K carbon fibre (3K refers to the number of fibres per bundle) is laid up in a 1×1 Plain weave to achieve the tightest 3 dimensional mapping across the design of the sole.
What I Like Best: There wasn't one thing in particular that stood out to me on the dhb shoe, but if I were to pick what I like best about them it would be their clean look and design.
Do You Wear a Size Men's 43?
This contest is now closed.  Congratulations to Jeremy N who is the winner of a new pair of dhb cycling shoes.  Thanks to everyone who entered.
As I mentioned earlier, we have a very specific giveaway for anyone who happens to wear a men's size 43 (UK measurement) or something around a US size 9.  Think of it as our "Cinderella" contest and we're looking for the person who'll fit into this awesome shoe.
These dhb R2C shoes are beautiful, perform very well, and we're giving them away.  So if you take this size or know someone who does, please enter to win by leaving a comment below.  All you have to say is that you'll fit into the shoe or know someone who will.
We're making the draw on Monday, July 23rd…Enter Now.