Let's Create More Placencia's in the World
Sixteen miles of natural sandy beach, a virgin mangrove-fringed lagoon, a wonderland of coral-studded cayes, nearby jungle rivers and pristine rainforest Garifuna, Creole and Mayan cultures and ancient Mayan ruins make Placencia the ideal location for the adventure traveler!
Sounds pretty nice huh?  Well, they forgot to mention something that makes this place even sweeter.  Placencia just happens to be a cycling oasis.  Not only are the roads that lead out from the peninsula some of the best road cycling pathways in Belize, Placencia is set up in a way that makes traveling by bike the only way to go.
I haven't been on too many peninsulas, but I'm telling you that this one has got to be one of the narrowest out there.  I swear that in certain sections of Placencia you can reach out and touch the ocean with one hand and the lagoon with the other.  The road that leads down the peninsula is in great condition, flat, smooth, and you'll find a speed hump at around almost every mile (or less).  Add this together, and you're looking at a place where getting around by bike is the only way…and that's what they do.
Sure there are still vehicles around, but I would say that bikes outnumber them about 3 to 1.  Not urban or mountain bikes like you'd see people getting around on in North America….nice beach cruisers that give it just a little more flare.  There's something so incredibly awesome about watching a grown man cycle by on a beach cruiser and a big old basket strapped to the handlebars.  So cool.
Placencia is a real melting pot of cultures and people.  There is a total mix of locals, ex-pats, and tourists….and they all blend together as they ride along on almost matching bikes.  What I loved most was seeing the tourists who have decided to join in the fun and have rented themselves a beach cruiser.  I saw countless people who had obviously not been on a bike for a very long time….smiling big and riding along with thoughts of their childhood streaming behind them.  It's amazing what a bike can do to a person, huh?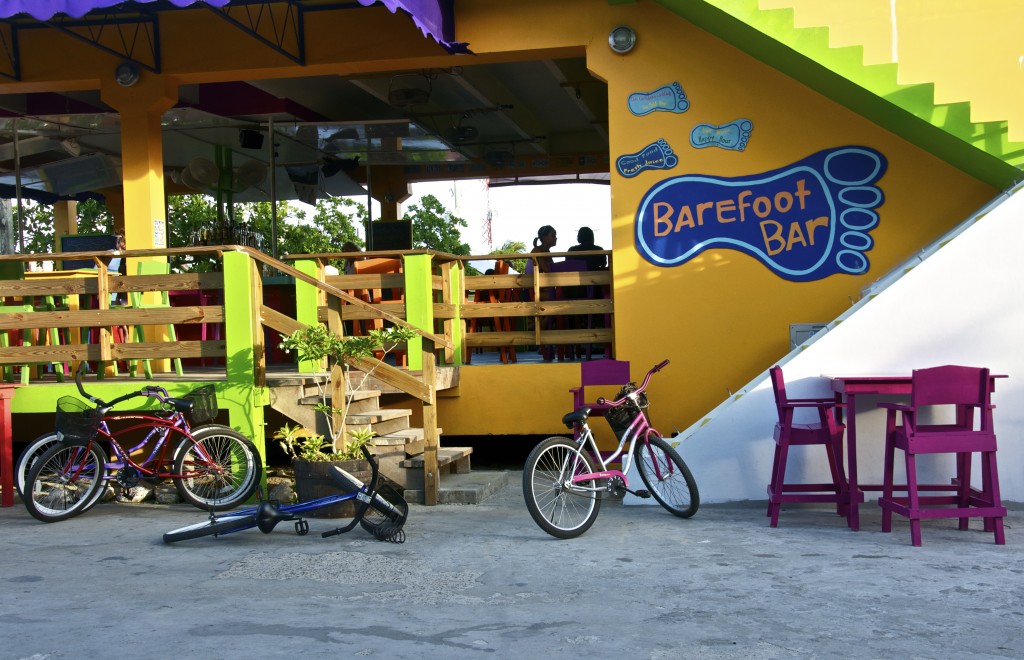 A perfect example of the parking lot at most places in Placencia
Anyway, as I sum up in the video below….Placencia is a pretty dang cool spot.  I love it's beautiful sandy beaches, laid back vibe, and definitely all the cruising.  I sure would love to see a bunch more "Placencia's" set up in the world.  In North America we seem to have built up cities trying hard to become more bike friendly.  What I'd like to know is why they weren't set up that way in the first place.  It sure would be cool to see towns and cities being built around bikes….making them the ideal (and preferred) mode of transportation.
[youtube]http://www.youtube.com/watch?v=7ZxWSUrbEEo[/youtube]
What do you think about setting up places like this around the world?