3 Tips to Avoid a Crash
Nobody likes to talk about crashing on a bike, but unfortunately it can happen.  It's one of those voodoo type subjects where you feel like you need to sacrifice one of your bikes to the bike Gods after talking about it.  We recently did a podcast all about crashing over at Cycling 360, and I invite you to listen to it for a full report on everything from crashing properly, mitigating a crash, and what to do if it happens.
I would say that paying attention is the ultimate tip for staying safe and avoiding a crash, and the post I wrote on nearly being flattened like a pancake is a perfect example of just how important keeping focused really is.  But on top of that, I'm here today with what I feel are three solid tips that all riders can use to help prevent a crash: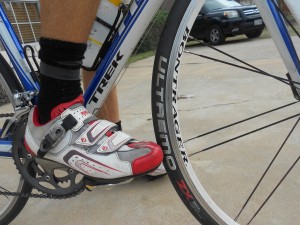 Short People: If you're blessed with the goodness of being short as I am (I'm somewhere in the neighborhood of 5′ 5″), then there is something you need to know about how your bike frame could cause a crash.  When you have a smaller bike frame, your front tire is located closer to your pedals than if you're riding a bike with a larger frame.  What that means is when you're moving slow and making a tight turn, your front tire is very likely to hit your shoe.  If this happens, your bike is going to stop…and if you're clipped in you might not have enough time to un-clip before falling over.
Sure it's a low-speed (or no-speed) crash, but can still be prevented if you're mindful while doing these turns or trying out a trackstand.
New Road (especially downhill): If you find yourself cycling a road that you've never been on before, my recommendation is that you take it slower than normal.  Even if you're riding with a group, it would be a good idea to be a little more aware of what's ahead and keep yourself distanced from the other riders.  When on a new road, you aren't aware of blind corners, holes or uneven pavement, and any other surprises that could pop out at you.  Keep your eyes peeled and your speed down for your first time down a new road.
Overlapping Wheels: This one is for any of you who ride in a group or plan on doing a group ride.  Overlapping a wheel is when you ride with your front wheel next to the back wheel of the bicycle in front of you.  When overlapping a wheel, you can find yourself in a situation where the front rider suddenly moves in your direction causing you to go down.  When riding in a bunch, sometimes it's difficult not to overlap a wheel from time to time….but limit it from happening and keep yourself upright.
What are your top tips for avoiding a crash?  Be sure to let us know as we can never be too safe out there.