An Emotional RAGBRAI Ride: Dedicated to Grandpa Nelson
Later this week, Krissy and members of the Nelson family will be taking part in RAGBRAI (an annual seven-day bicycle ride across the state of Iowa).  But even though she has ridden it several times in the past, this one will mean more than all the rest combined.  Please join me in reading Krissy's emotional story about how this year the Nelson's will be dedicating the ride to her inspirational cycling Grandpa.
Why I Ride: RAGBRAI 2012 Dedicated to Grandpa Nelson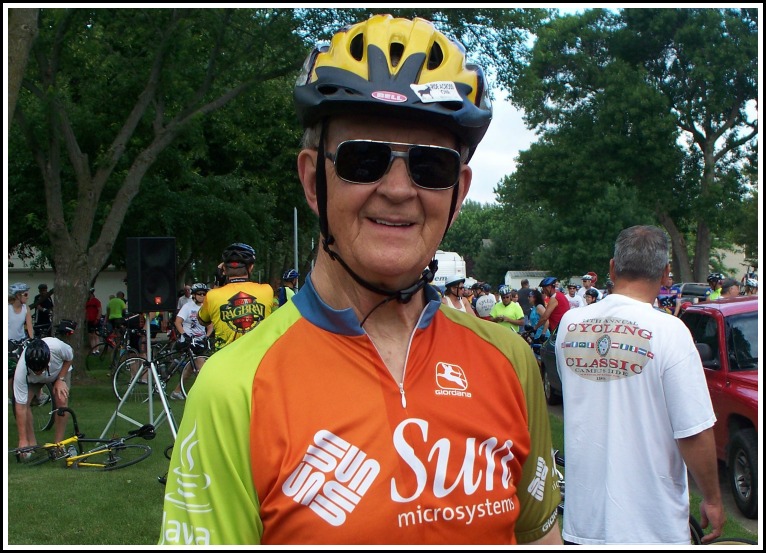 I remember the first time he said it out loud to me, "I have Alzheimer's."  I already knew this, but for some reason it felt like the first I'd heard the news when Grandpa was the one saying it.  We were in his workshop and he was telling me all about some of his old hand crank drills and carpenter's tools he enjoyed using so much in his earlier years.  Grandpa could fix anything, but he could not fix this fate.  He hugged me tight, told me he loved me, and that he was proud of the person I'd grown up to be.
Grandpa was one of the first people who got me into long distance cycling.  When I was younger I would hear all about this thing called RAGBRAI (Register's Annual Great Bike Ride Across Iowa) that he and a few other family members, including my Dad, would go on in July.  I thought they were crazy – I mean, who wants to use their vacation time to ride their bike across a state?
This year will be my 11th RAGBRAI…yep I caught the same cycling bug my family had, and Grandpa was right there to lead the charge!  How many people can say they've ridden across a state with their grandfather?  I'm lucky enough to say that I have several times.  I share this story a lot because I apply to all parts of my life now, but the best piece of advice my Grandpa ever gave me was: "As long as we're pedaling, we're moving forward."
This came from him on my first RAGBRAI as we were riding up a hill.  I was in too high of a gear and Grandpa told me to just spin up the hill –  get in an easier gear.  As soon as I did that, I was good to go.  Grandpa didn't believe in being a speed demon or killing your legs.  He was very much the "slow and steady wins the race" type, but he pedaled every last mile and finished every RAGBRAI rode.  Because of Grandpa, I actually enjoy the hills now.  I sit up, relax, and just pedal.  I enjoy the view from the saddle of my bicycle.  There is no hill I climb that I don't think of him.
Sadly, on April 18th this year, my Grandpa Nelson passed away.  To put it lightly, I was devastated; I still am.  Grandpa had been in a nursing home for a few months and I am so blessed that I was able to see him the day before he died.  While that was a very difficult day for me, I am so glad I saw him.  Grandpa always knew that I loved him, but being able to tell him again how much is something I will never forget.  My sister, and cousin stood by his bed for a very long time and I squeezed his hand….and he squeezed it back.  Without a doubt, one of the hardest things I've ever done in my life was to tell my Grandpa goodbye as we left the nursing home, knowing it would most definitely be the last time I'd see him.  I leaned to give him a hug, and with every ounce in him, Grandpa lifted his arms and hugged me back.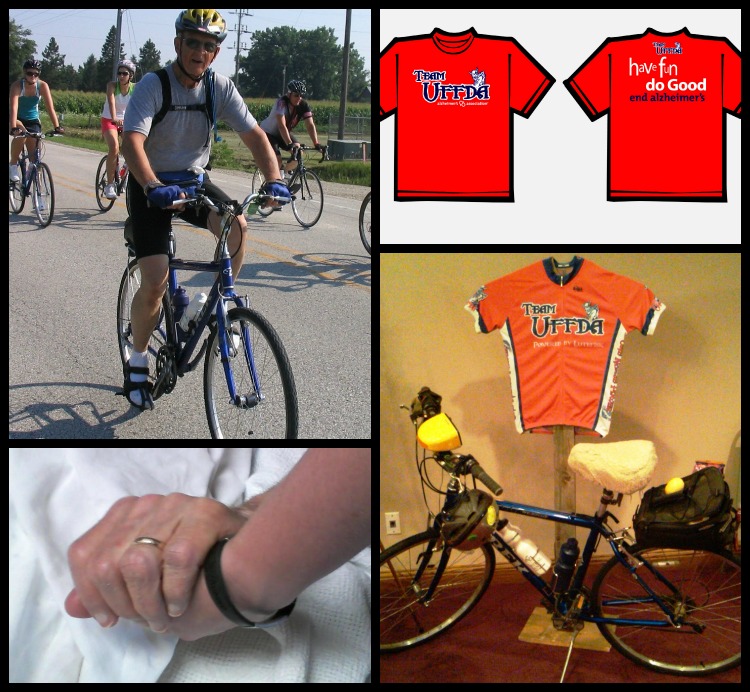 At his memorial service, we had set up Grandpa's bike in the front of the room and it became quite the topic of conversation.  It was right then that my cousin, Matt, came up with the idea that we needed to give Grandpa's bike One Last Ride – we would each take turns and alternate riding his bike to get it across Iowa for the final time.  Since that moment the plans have been in the works and now we are ready for RAGBRAI.  In addition to riding in honor of Grandpa, we will also be riding to raise awareness and funds for Alzheimer's disease.  In the seven days that we ride across Iowa, an estimated 160 Iowans alone will die due to Alzheimer's.  There is NO cure, NO way to stop it or slow it's progression….but the end of Alzheimer's can start with YOU.
We have teamed up with the Alzheimer's Association and have set up a fundraising page on our team blog – http://TeamUffda.blogspot.com, in which visitors to the site can donate.  We will also for the first time ever, be selling Team Uffda merchandise.  Since my family stated Team Uffda, we have never sold anything with our name on it, but this year we're changing that.  We will have for a limited time, special Team Uffda shirts that people will be eligible to purchase for $25 (includes shipping costs) after making a minimum $25 donation to the Alzheimer's fundraising page we have set up.  Fundraising for the Alzheimer's Association is ultimately our goal, so if you would rather just give to them and not buy a shirt, that option is of course available.  The plan is to update our blog daily, so please check back regularly during RAGBRAI to see our progress and stories from the road.
While the RAGBRAI route is one of the "easier" ones in recent history, there is no doubt that this will be the most difficult RAGBRAI for my family.  I'm going to cry; I know I will.  But behind those tears will be joy.  Joy for the memories I have of riding all those miles alongside my Grandpa on RAGBRAI; joy for the opportunity to share his story; and joy for the chance to do some good in honor of someone who did more good in his lifetime than anyone I've ever had the pleasure of knowing.  When I feel the wind at my back, it will no doubt be my Grandpa giving me a push.
I will forever ride for you Grandpa.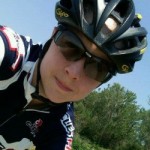 *I'd like to thank those of you who have been so supportive to my family and me during the past few months.  Anyone who has ever taken a few moments to tell me that they are thinking of my family and me or write a little note of encouragement, I am forever grateful.  And thank you to Darryl for letting me post this on the Loving the Bike site.  You are a true friend.