Help Design Our New Kit
This is your chance to help create the new Loving the Bike cycling kit.  By now, I'm sure you've all seen the hot new #bikeschool kit design and have your pre-orders in…and now it's time to get our new kit together.  Once again, we'll be having @bobridesabike as the design captain but we need your help and input to ensure we create something that is appealing to all of you.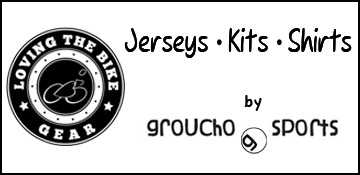 I don't want to influence your design ideas, but two things that I'd like to see incorporated into the new kits are a white base (I've always wanted a white kits, personally), and having either Team #LovingtheBike or Loving the Bike Army on it somewhere.  But it's up to you, so let's hear your thoughts.  It's your turn to take the controls and help create the kit that you've always wanted.
Below are some blank design forms that you can use to help sketch your creation, or you can simply leave a message in the comments section below telling us some ideas you have.  Feel free to use other design forms as well if you have them, and then get your sketches over to me at darryl@lovingthebike.com.
We'd like to start getting these together with the good folks at Groucho Sports, so get back to us with your ideas by next Monday.  I'm looking forward to seeing your design.