No Country for Old Men Ultra Bicycle Race
Dex Tooke is one wild man ultra endurance cyclist, and now he's putting on his own challenge to bring out other ultra cycling maniacs to join him.  You might remember Dex from a post we did that featured him a while back.  He has taken on the Race Across America (RAAM) a few times now and last year he became the sixth rider over 60 years of age to complete the event.  Dex is also the rider featured in what I consider to be one of the most beautiful cycling photos in the world.  Have a look at this incredible Monument Valley RAAM photo.
Dex has created the first ever No Country for Old Men (NCOM) ultra bicycle race which begins and ends at Kokernot Park Alpine, Texas.  This race is going to be anything but easy and likely to attract only an elite few.
The six time station, 382.6 mile race kicks off at 8:00am Saturday, October 13 and the route includes over 13,800 feet of vertical climbing.  During the race, riders will cycle through Big Bend National Park on Ross Maxwell Scenic Road……one of the Country's most beautiful roads and winds through rugged, primitive country.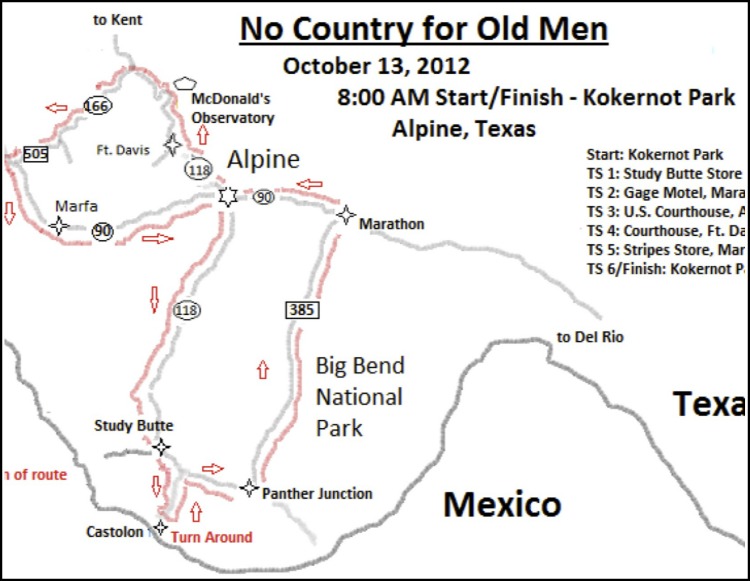 This race is limited to 20 people and invitations can be obtained by contacting Dex at dex@str.rr.com.
A Word from Dex:
The National Park Service has limited the race to 20 participants (relay teams represent one participant).  You do not have to immediately submit your registration, but because of the limited field, I would appreciate it if you would let me know as soon as possible if there is a reasonable chance you will be competing.  Anyone that Races in this year's NCOM will automatically have a reserved slot for next year's race.  Don't miss your opportunity to be part of one of the most exclusive races in the ultra world.
There will be awards for the overall winner in 5 different categories.  Each Racer will have the option of purchasing a "No Country for Old Men" finishers jersey autographed by all Racers.  In the tradition of Race Across America (RAAM), please bring a t-shirt from one of your previous races.  Everyone will have the opportunity to exchange t-shirts with others competitors.
Dex will have an updated website for the race soon, but for now more information can be found on their Facebook Page.  Feel free to also leave a comment below with any questions you have or contact Dex directly.