Truck Driving Cyclist
From time to time our Make it Happen Monday series features interesting people whose stories are sure to inspire the rest of us.  This time we're focusing on Eric McWhirter who is constantly traveling across the USA with his job as a truck driver, but what's cool is he always has his bike along for the journey.
When I first started following Eric on social media I kept reading about all these different cities he was cycling in and where he would be off to next.  I was like, dang, this dude sure does get around on his bike. Then I found out he was a truck driver, but integrates his career with his love for the bike.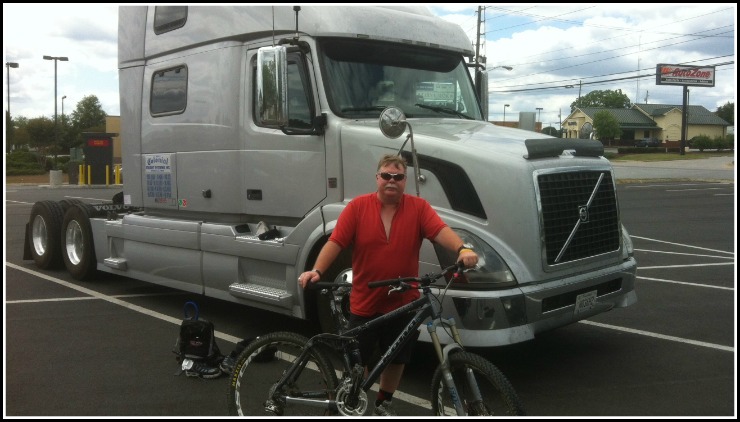 Eric has been driving a truck off and on since getting out of the Army in 1990, but never was all that into cycling until 2004.  He wanted to do something to improve his health, and due to some physical issues he felt that cycling was the best choice.  He bought a mountain bike from a pawn shop and started riding around the block, until it got stolen very soon after.  So next up was a Trek 4300 HT and along with it came a serious cycling attitude and more miles.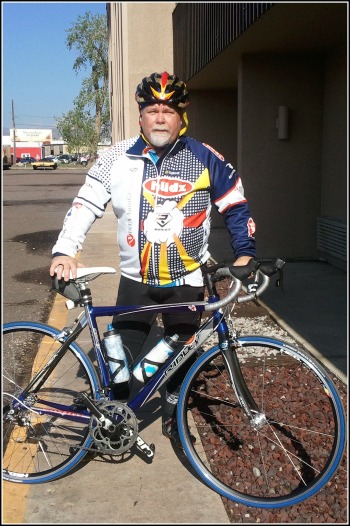 During the time he got into cycling, he was off the road and working an office job.  But when the economy took a downswing he went back to trucking.  It was at this point that his love for cycling and life on the road began to mix.  He was at a truck stop in Portland, Oregon and was parked next to a bike path…it was at this moment that Eric found himself missing his bike.  As soon as he got back home from that trip he put his Trek on the truck and any free time he's had on the road since then has been spent on his bike.  Sometimes it gets him in a little trouble.  "It used to tick off the office if they would call with a load and I was 10 miles from my truck", says Eric.  But his company understands about his Loving the Bike time now.
So what do his fellow truck driving buddies have to say about this bike riding trucker?  "They ask where I keep my bike, and I'm always happy to show them".  Life on the road is tough and Eric thinks it would be a great thing if more truck drivers released some of that driving tension by getting out on their bikes.  Plus with new government health laws on the way, many truckers may find themselves out of work if they don't shape up (literally).
So far Eric has been able to ride in 14 different States, but wants to cycle in many more.  He'd also like to take part in more cycling events around the country as well.  He did the LIVESTRONG Challenge back in 2010, but after having a few health scares he hasn't since taken part in any more of these types of events.
Now get this, Eric drives a Volvo 780 which means it has enough room that he can even ride his bike on the trainer….inside the truck.  What?  At the moment, he has two bikes with him which makes things a little tight….but that's totally fine with Eric.  On a weekly basis, he is driving between 3,000 and 3,500 miles and gets on the bike during his "34 hour restart".
So what does Eric like best about cycling?  "The challenge and the freedom".  He loves the challenge of mapping out his ride in the new locations he always finds himself in, as well as getting away from the truck stops to do something positive for his health.  This truck driver has found freedom and better health by way of the bike.  Keep on Making it Happen, Eric.