What Type of Cycling Route Do You Like Best?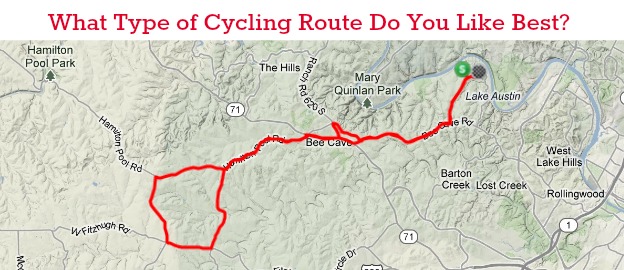 Whether you're a road cyclist or mountain biker, there are several different types of route types you can take when going for a ride….what type do you like best?
I'm primarily a road cyclist, and my preferred type of ride is one that takes me on a loop from home and back.  When I lived in Austin, I found myself also doing a lot of out and back rides.  For me personally, if it's this type of ride I prefer the out to be at least 10 or 12 miles so it can be doubled up on the way back.
But I've also found myself loving the mountain bike lately and along with this I have learned that there are a whole bunch of ways to classify a route.
So what type do you prefer, and why?  Below is a list of some of the various route types that I know about….feel free to add in any of your own in the comments below.
Road Cycling
The Loop – This is a popular type of ride for many cyclists.  Basically, it's a ride that takes you around in a full circle so that you're never double backing down any of the roads you head out on.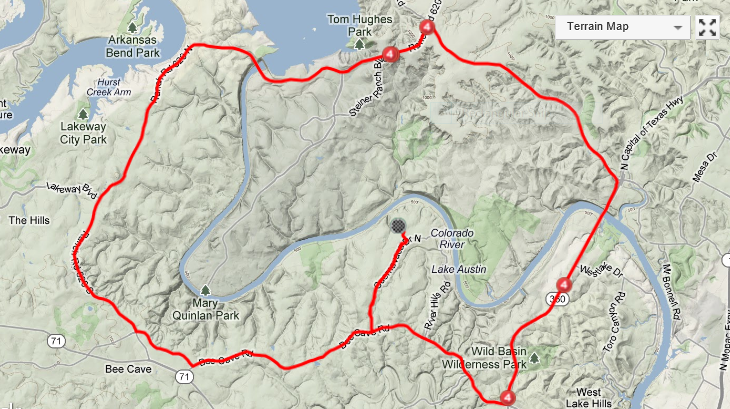 The Out and Back – This type of ride takes you down a road (or series of roads) and then you trace back your route to come back to where you started.
The Crazy Word Design – With the popularity of GPS and online tracking of rides, there are millions of personal ride routes to be found on the internet.  You've also probably seen some of these crazy designs and spelled words that have been posted as well.  I'm still not sure if they are legitimate or not, but funny to look at either way.

Hill Repeats – Doing hill repeats is everyone's idea of a good time, right?  Uhhhh, not exactly.  Hill repeats are when you climb one hill (or a series of a few hills) over and over.  You climb up, you ride down….and then do it all over again.
Mountain Bike
I'm taking this list of typical mountain bike routes and names from my friend Greg over at Singletracks.
Figure 8 – Pretty self explanatory….just don't make yourself dizzy from too many of these.
Lariat – Like a popsicle.  It's basically a loop with a stick off of it.  Usually you ride the popsicle stick out, ride the loop, and ride the same popsicle stick back.  Is anyone else craving one right now?
Network – Lots of places are actually trail networks.  A network is basically a spiderweb of shorter trail segments that add together and form a cohesive network.  Here's an example of a trail system with sub-trails: http://www.singletracks.com/bike-trails/bull-mountain.html.
Shuttle – A shuttle ride is generally a point-to-point route where you ride from one end to the other, but use a vehicle to do the connection.  Usually you take a vehicle high up into the mountains and then ride the trail back downhill.
Loop – A loop for mountain biking would be pretty much the same as on a road bike…..it would just likely have different terrain.  Same thing goes for the Out and Back.
Your turn….which one do you like best?