Win 2 Entries to The Hotter'N Hell 100 Ride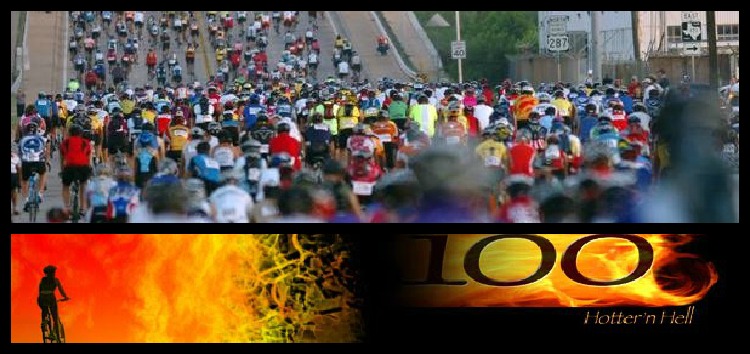 Are you ready to bake in the hot sun while riding along 100 Miles of beautiful terrain in Wichita Falls, Texas?  The 2012 edition of the Hotter'N Hell ride (HHH) is taking place on August 25th, and over the past 31 years it has become the talked about cycling event to take part in.  The HHH is one of the oldest and largest cycling events in the United States and we're here to motivate you to join in this year's events.
Have a look at what Bethel Strong and Sherry Potts have to say about this ride….and if their testimonials don't entice you to take part, then we're offering up two free entries so that you and a friend can get registered and ride together.  Oh, and in case 100 miles of riding in the heat scares you too much…they also have shorter route options as well.
For more information on how the Hotter'N Hell 100 got started and about all the other events that go on in Wichita Falls during the week of August 23 to 26, visit their website at www.hh100.org.
Bethel's HHH Experience:
I entered the 2011 Hotter "N Hell 100 (30th Year Anniversary for the ride) and had never ridden it before. I was 55 years old at the time and always want to push myself to stay in shape.  I want to do as many things possible while I'm still in good enough shape to do it.  My body and father time will let me know when to stop.
I went there on Friday, one day early so I could get a good night sleep to be ready on Saturday morning start.  In the morning they gave us the option to start at 6:30 (normally starts at 7:30), due to the expected EXTREME HEAT.  Well, I opted for the 7:30 start because I wanted the full experience of the Sheppard airforce base jets flying over.  Now that was cool.  Glad I waited.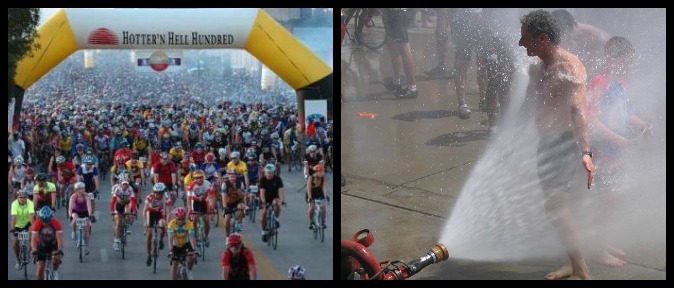 We finally got started and there were, my best guess just under 14,000 riders, all sized, shapes and ages.  Never doing this before I wanted to stay in as straight of a line as I could to avoid a crash.  I also wanted to ride at 15 mph, to pace myself and conserve energy for the entire 100 miles.
The heat reached 109 degrees and it became the Hottest Hotter 'N Hell in their 30 year history.  Lots of people were having heat issues with their body, and had to be taken from the ride.  I thought, PEOPLE IT'S CALLED THE HOTTER 'N HELL FOR A REASON–ITS HOTTER 'N HELL OUT HERE!!!   Oh well, more road for me to ride on with them all gone.
It was real cool that when you ride through all the small towns, the business and the people at their homes will all wave and cheer you on, plus they will SPRAY YOU WITH THEIR WATER HOSES, of course I made some circles and went past them a few times, they thought that was funny. Felt GREAT!!
I found out that the cold dill pickle juice they handed out at the rest stops is pretty good.  Seems like the rest stops were all in competition with each other and had several themes at the stops.
The ride is mostly a flat road surface and very small inclines, maybe a 2%-3% grade for about 2 miles.  Really not a bad ride at all, just Very Long and Very Hot.
When I finished, it was real hot, but I had cold chills on my body, because I felt so proud of myself for doing it.
I was keeping my family informed by text during my ride and my oldest daughter (Amy) was actually crying throughout the day, because she said that she was so proud of me for doing things like this.  She said I was the coolest dad.  My whole family praises me for what all I can still push myself to do at my age and also having asthma.
Bethel Strong – Forney, Texas
Sherry's HHH Experience:
It was Christmas, 1982 when my grandmother gift wrapped everything needed to ride a bike, except the bike. She was 60 years old when the first Hotter'N Hell 100 started, and true to her spirit for adventure and devoted love for Wichita Falls, she bought a bike and entered the ride for 25 miles. Standing in her company, I found myself purchasing my first road bike and joining her that Saturday morning in August for her second 25 miles and my first 100K.  The morning of the ride, I had no idea what was coming.  Not hundreds, but thousands of people and bikes were everywhere! The energy that comes from the crowd and the single purpose to all ride together, I would learn later, is what catapults you through the first 20 miles.
My grandmother passed away three years ago, but the feeling I felt on that first day has never left. It remains a constant in the ever-changing world that is my life. Today I ride road, off-road and trail run. At 49, I am signed up for my first Triple Threat. Without any further delay, I look forward to what adventure I will be tackling when I turn the same age as my grandmother on her first HHH!
Sherry Potts – Wichita Falls Resident
Win 2 Entries to Hotter'N Hell 2012
This contest is now closed.  Thanks to all of you who entered and congratulations goes out to Moctavius who was selected by random.org as the winner.  I hope you all still register for the ride and have a great time in the hot, hot sun.
If you've always wanted to take part in the Hotter'N Hell ride, or just heard about it for the first time….we're making it easy for you to register and ride.  The folks from HHH are giving one of our readers 2 free entries to this year's event so that you have no excuses for not taking part.
Simply leave a comment as to why you'd like to do this ride and you're in to win.  Contest is open until this Thursday a Noon and winner will be announced soon after.
If you can't wait and want to register right now, head over to the HHH Registration Site.