10 Miles of Total Diversity
Most days, my bike ride consists of 10 miles up the East coast of Grenada and another 10 miles or more back down to the South where my business is located.  Yeah, a 20 mile daily ride which I equate to riding something like 30 miles anywhere else due to the hills and road conditions here.
But within 10 little miles, I ride through total diversity in every way.  Let me try to give you the play by play…..but you really have to come to Grenada and ride with me to experience it for yourself.
I start off my ride from our home in Springs.  We overlook Port Louis, the home to magnificent yachts and sailboats that decide to moor here for a while…..and we often get some mega huge ones.  Below is the EOS – the World's largest privately owned sailboat (the blue one….the white yacht is just the typical cruiser type that is often docked) – that was in port for a couple weeks.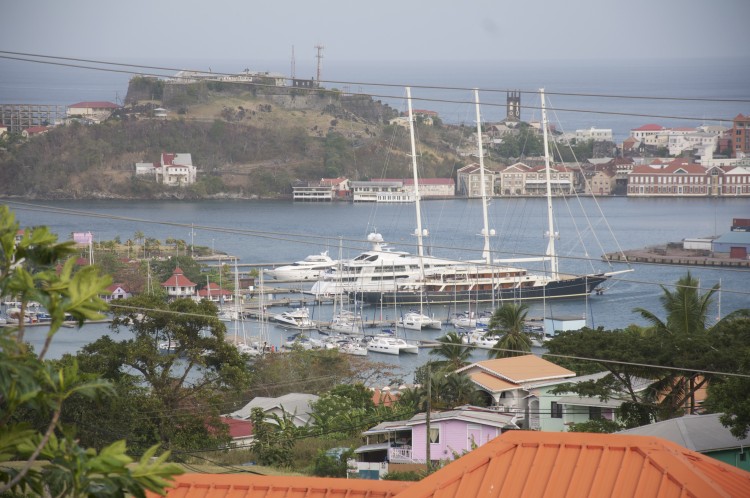 So I start my ride with views of Billion Dollar yachts and the vision of lifestyles of the rich and famous.  But things change very fast.  Springs might overlook all this wealth, but it's a middle of the road Caribbean neighborhood primarily made up of Grenadian locals.
As I make my way down the East coast, I ride through mostly local villages with a couple "upper scale" developments sprinkled along the way.  But for the most part, all I see are Grenadians going about their day.  Waiting for the bus, walking to go work in the field, hanging out at home, or liming with friends at a rum shop.  Tons of wild or stray dogs roaming the streets.
Typical local housing.  Some literally shacks.  Some in new condition.  Others abandoned and destroyed.
I turn around at the round-about in Red Gate, and the demographic remains pretty much the same as I make my way into the South.  As I turn in to ride down the peninsula at Lance aux Epines, things change drastically.  This is an area where the majority of SGU students (an American Medical and Vet School) and ex-pats live.
The scene goes from very traditional Caribbean to very modern American….instantly.  Students jogging or walking dogs (on leash).  Standing on the corner waiting for the school bus with a cup of coffee in their hand.  Black to white.  Literally.
Big houses.  Ocean views.  Name brand clothes.  Landscaped yards.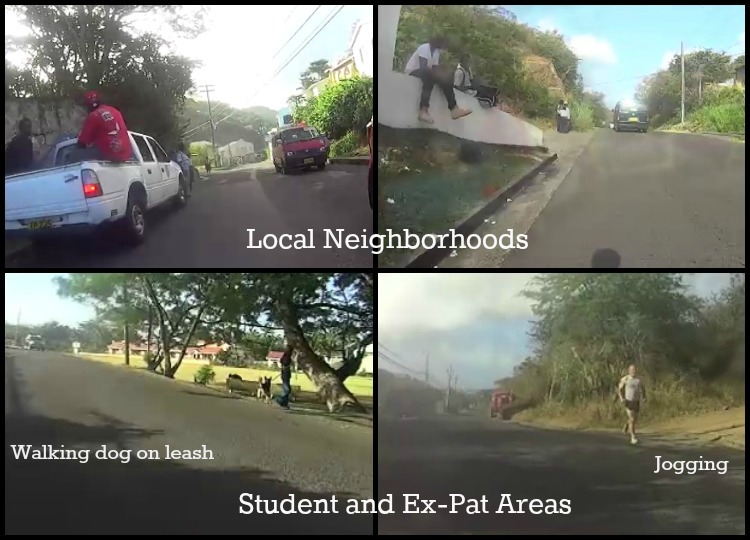 I turn around and make my way out of the peninsula and back to the island main road.  I ride further South to where the airport is located.  Just as my ride began, I see mega wealth.  Private jets lined up on the tarmac.  The ultra rich have come to play.  I look up and see American Airways taking off with hundreds of tourists making their way back to "reality".  Another vacation has come to an end.
Then it's time to finish off the ride by pulling up to my reality…..a day at our bicycle café in Grenada.  Yes, it's not only my ride that goes from one extreme to the other.  My present life is totally diverse from its past as well.