100th Tour de France Limited Edition Poster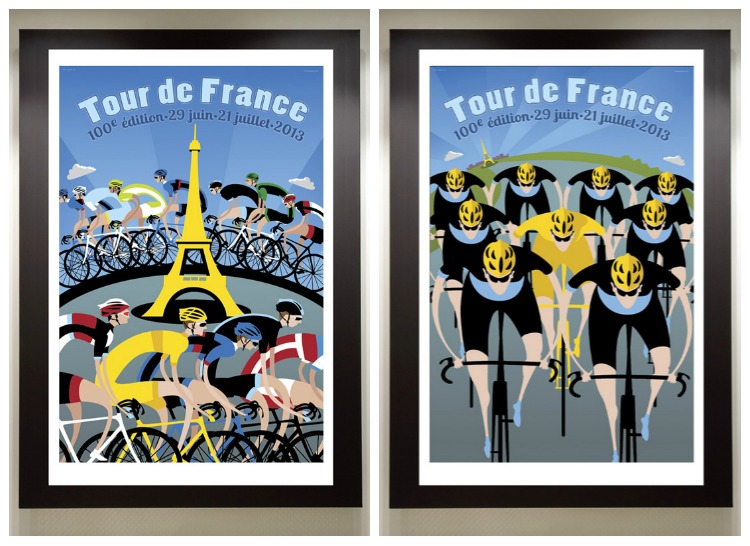 Do you want a beautifully designed poster to commemorate this year's 100th edition of the Tour de France?  Michael Valenti is a designer/illustrator from north Chicago and rides with his cycling club, Veloist.com.
He's created several pieces of cycling artwork in the past, and just release these two limited edition Tour de France posters just in time for the 100th running of the Grand Tour.
Michael's one hot cycling artist and is currently being featured in the current edition of VELO Magazine in the Tour de France special issue.
His work has also been commissioned by Trek, Bike Milwaukee and the Wisconsin Bike Federation to name a few other companies.
100th Edition Tour de France Cycling Poster by
Michael Valenti
Buy One Get One Free Promotion
From today until July 21 (the end of the TdF), if you purchase one full size 24″ x 36″ Valenti Cycling Poster……you get the second one FREE.
Michael Valenti is offering this deal to anyone who follows him on Twitter (@theveloist) or Facebook.
How to purchase and get your BOGO deal:
Go to MichaelValenti.com store: 

http://michaelvalenti.com/store/.
Purchase the poster you want and in the Instructions to Merchant box provided write in the name of the FREE poster you want.

Shipping in the US is FREE, but there is a $20 additional shipping fee for UK, Europe and Australia. You will be contacted if it applies to you.
Even if you don't purchase a print now, please follow Michael's Twitter or FB for new specials and art you might be interested in.
These are the links: